News
Blues Harmonica Legend James Cotton Receives Grammy Nomination For "Cotton Mouth Man"
[12/09/2013]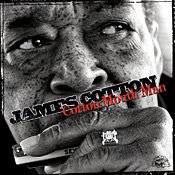 Grammy Award-winning harmonica master
James Cotton
received a Grammy Award nomination for his 2013 Alligator CD,
Cotton Mouth Man
. Cotton won a Grammy in 1996 for his album,
Deep In The Blues
. Grammy winners will be announced in Los Angeles on Sunday, January 26, 2014. 2014 marks Cotton's 70th year as a professional musician.
Cotton Mouth Man
is an upbeat, warm blues album boasting fine musicianship and Cotton's undeniable spirit.
Living Blues
says, "James Cotton is one of the great harmonica innovators of his generation.
Cotton Mouth Man
is a star-studded affair that makes James Cotton's best recording for Alligator. It is an autobiographical narrative of Cotton's eventful life and soul-deep relationship with the blues. He plays with an authority and energy that belies his age."
Cotton Mouth Man
was recorded in Nashville and produced by Grammy-winning producer/ songwriter/ drummer Tom Hambridge (Buddy Guy, Joe Louis Walker, Susan Tedeschi). The album is a trip through sounds and scenes from Cotton's long and storied career. Helping Cotton tell his stories and showcase his music are guests Gregg Allman, Joe Bonamassa, Ruthie Foster, Warren Haynes, Delbert McClinton and Keb Mo. Other vocals are handled by Darrell Nulisch, who has been singing in Cotton's road band for many years.
Cotton in the press:
Conjure up a list of all-time great blues harmonica players, and high up on it you'll see the name James Cotton.
--NPR
James Cotton is a world-class harmonica-playing bluesman.
Cotton Mouth Man
is an upbeat, warm blues album boasting fine musicianship and Cotton's undeniable spirit.
--Rolling Stone
The greatest blues harmonica player alive today....Riveting, aggressive, rock-ready blues-harp.
--Wall Street Journal
This is one of Cotton's most rollicking albums, full of spirit and power.
Cotton Mouth Man
is as good as anything he's ever done, proving that despite his vocal hardship, James Cotton is still one of the greatest blues communicators of all time.
--No Depression
Bluesman James Cotton has lived the kind of life they make movies about. But Cotton tells that tale more explicitly and eloquently than ever in his newest recording. Listen to Cotton's harmonica playing on the album -- gritty, gutsy, ferociously uninhibited -- and you're hearing what great blues harp work is all about. No wonder they call him Superharp...One of the most dynamic harpist-bandleaders in the business.
--Chicago Tribune