Billy Branch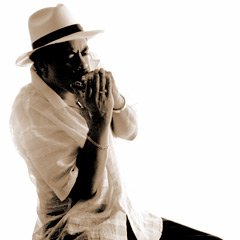 Biography
Born in Chicago in 1951 and raised in Los Angeles, Branch first picked up a harmonica at age 10 and began picking out tunes on his own. He returned to Chicago in 1969 and enrolled at the University of Illinois, where he studied political science. When not attending classes, Branch immersed himself into the local blues scene, spending time at many of the famous blues haunts like Theresa''s and the Checkerboard Lounge. Branch learned the finer points of harmonica directly from blues legends like Big Walter Horton, James Cotton, Junior Wells and Carey Bell. His sound is powerful, melodic, jazzy and contemporary, solidly swinging yet fully under control. His famous teachers made it clear for years that Branch was the heir apparent to the Chicago blues harmonica throne.
After beating the harmonica master Little Mac Simmons during a harmonica battle royal in 1975 at Chicago''s Green Bunny Club, Branch began working regularly in blues clubs all over the city. He recorded his first track for an anthology on Barrelhouse Records in 1975. Carey Bell brought Branch to the attention of blues legend Willie Dixon, who then invited Branch to join his Chicago Blues All-Stars. Branch stayed with Dixon for six years, soaking up the lessons offered up by Dixon—both musical and professional. He took his blues education and formed The Sons Of Blues in the late 1970s, and his reputation as one of Chicago''s best new generation harmonica players grew swiftly. The Sons Of Blues toured Europe, honing their chops and tightening their sound. When they returned to the States, they recorded three songs in 1977 for Alligator Records'' Grammy-nominated LIVING CHICAGO BLUES series, and then for the label''s NEW BLUEBLOODS anthology, bringing them their largest national exposure.
In 1990 Branch, along with Junior Wells, James Cotton and Carey Bell, recorded the Blues Music Award-winning album, HARP ATTACK! for Alligator. He's recorded several solo albums and has appeared on over 50 other releases as a session player with numerous blues stars, including Koko Taylor, Lonnie Brooks, Lou Rawls, Son Seals, Willie Dixon and Johnny Winter. Branch received the Living Blues Critics Award in 1993 for "Most Outstanding Blues Musician" in the harmonica category. In addition to his recordings, Branch is also an educator, and his Blues In The Schools program has earned him praise both inside and outside of the music world. Branch shares his knowledge of the music through his Blues In The Schools program in Chicago and other cities around the country, where he teaches blues history as well as providing instrumental instruction to children. In 1996, members of his classes, with Branch at the helm, opened up the main stage at the Chicago Blues Festival, which was broadcast nationwide on National Public Radio.
DISCOGRAPHY:
1984 Where''s My Money? (Evidence)
(originally on Red Beans Records)
1990 Harp Attack! (Alligator)
1992 Mississippi Flashback (GBW)
1994 Live '82 (Evidence)
1995 The Blues Keep Following Me Around (Verve)
1998 Chicago Blues Session, Vol. 22 (Wolf)
1999 Satisfy Me (House of Blues)
2001 Chicago's Young Blues Generation (Evidence)
2004 Double Take (Alligator)