News
MARCIA BALL TO APPEAR IN ANGELS SING, IN THEATRES AND ON DEMAND NOVEMBER 1, 2013
[11/04/2013]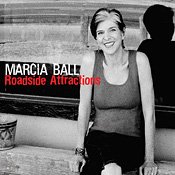 "More fun than a barrel of funky monkeys. Ball's awesome mélange of keyboard styles sets the tone: call it the Zydeco boogie-woogie blues. Horns chug faster and faster, guitars drop by for a rock 'n' roll interlude."
--NPR
Singer, pianist, songwriter
Marcia Ball
makes her major motion picture debut in the film
Angels Sing
, premiering in theatres and On Demand on Friday, November 1. The film stars Henry Connick, Jr. and features Grammy-winning musicians including Willie Nelson, Lyle Lovett and Kris Kristofferson. In the film, Marcia plays Great Aunt Jocelyn. Ball's latest release is the Grammy-nominated
Roadside Attractions
.