News
JAMES COTTON WINS BLUES MUSIC AWARD
[05/09/2014]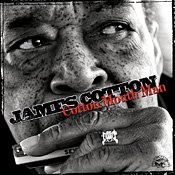 On Thursday, May 8, Grammy Award-winning harmonica master
James Cotton
received the Blues Music Award for Traditional Blues Male Artist Of The Year. The Blues Foundation announced the winners of the 35th Annual Blues Music Awards in a ceremony held at the Cook Convention Center in Memphis, Tennessee. Cotton, who was in attendence at the ceremony, is currently celebrating his 70th year as a professional performer, and is hot off the heels of 2013's Grammy-nominated
Cotton Mouth Man.
Cotton Mouth Man
is an upbeat, warm blues album boasting fine musicianship and Cotton's undeniable spirit.
Living Blues
says, "James Cotton is one of the great harmonica innovators of his generation.
Cotton Mouth Man
is a star-studded affair that makes James Cotton's best recording for Alligator. It is an autobiographical narrative of Cotton's eventful life and soul-deep relationship with the blues. He plays with an authority and energy that belies his age."
NPR Music
declares, "Conjure up a list of all-time great blues harmonica players, and high up on it you'll see the name James Cotton.