News
KINGFISH Cover Art Revealed - New CD Set For May 17
[03/11/2019]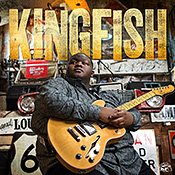 Is Christone "Kingfish" Ingram the future of the blues? The blues savior is one of the most exciting young guitarists in years, with a sound that encompasses B.B. King, Jimi Hendrix and Prince.
--Rolling Stone
A rising blues prodigy….A torchbearer.
--NPR Music

Kingfish is the next explosion of the blues.
--Buddy Guy


Christone "Kingfish" Ingram, the ne wly-signed 20-year-old blues guitar prodigy from Clarksdale, Mississippi, along with Alligator Records, has today revealed the cover art for his debut CD, Kingfish. The album is set for release on May 17, 2019. On February 19, RollingStone.com premiered the album track Fresh Out, a sizzling duet featuring music legend Buddy Guy. The first radio single, Outside Of This Town, will be released on April 15. Additionally, on May 16, Kingfish will showcase at WXPN-FM's annual, influential NON-COMMvention in Philadelphia. The convention brings together public (non-commercial) radio music programmers and managers, music industry representatives, and music media from across the US. From there, Kingfish will tour, headlining his own shows and opening dates for Budd y Guy and Vampire Weekend.
Listen to Fresh Out here.
Kingfish was produced by two-time Grammy winner Tom Hambridge (Buddy Guy, Susan Tedeschi, Joe Louis Walker, George Thorogood). The album showcases Ingram's blistering, raw and inspired guitar playing, soulful, deep vocals and memorable songwriting. He co-wrote eight of the album's twelve tracks. "A lot of folks know me for my covers," he says of his many YouTube videos, some with millions of views each. "That's why it's important for me to release original music."
Sprung from the same earth as so many of the Delta blues masters, Kingfish comes bursting out of Clarksdale, Mississippi, just ten miles from the legendary crossroads of Highways 61 and 49. A student of the Delta's musical history, he is acutely aware of the musicians and the music that emerged from his corner of the world. "I do think I have an old soul, that I've been here before," he says. "I'm moving forward with one foot in the past. You don't see too many kids into blues music. In my town, every kid wants to be a rapper – I wanted to do something no one else was doing." And although he grew up near the crossroads where Robert Johnson allege dly cut a deal with the devil, Kingfish insists he didn't do any of that to make his guitar howl the blues. "I just practice all the time," he says, "that's the only deal I made, and it's with myself."
Funk music superstar Bootsy Collins began sharing Kingfish's YouTube videos online, telling his followers, "this is how a child can influence others." Rapper The Game did the same. Christone's appeal beyond blues was immediate. He appeared on The Rachael Ray Show as well as The Steve Harvey Show. He was cast in season two of the Netflix program Luke Cage after the series lead producer saw one of his videos. Two of his cover songs appear on the show's soundtrack album, which immediately introduced him to a young audience. Kingfish recently performed in an NPR Music Tiny Desk Concert with rap legend Rakim, who also appeared in Luke Cage.
With the release of Kingfish, Christone "Kingfish" Ingram is ready to blaze a trail with the blues torch that's been passed to him. With his eye-popping guitar playing and his reach-out-and-grab-you-by-the-collar vocals, Kingfish delivers each song with unmatched passion and precision. Steeped in the rich, vivid history of the blues, he's driven by his burning desire to cre ate contemporary music that speaks to his generation and beyond. Kingfish is inspired by the music of Robert Johnson, but dreams of one day collaborating with Kendrick Lamar and soul-funk bassist Thundercat. "My core is blues," he says, "but it's important for me to create a sound and style that is uniquely my own. I have a lot to say, so please stay tuned."
Kingfish will be performing in concert across North America. He will be headlining his own shows as well as opening select dates for Buddy Guy and Vampire Weekend:
HEADLINING & FESTIVAL DATES

:
Mar 30 - Pearl, MS/Pearl City Park
April 6 - Jacksonville, FL/Springing The Blues
April 26 - Pittsburgh, PA/August Wilson Center For African American Culture
May 4 - Memphis, TN/Beale St Music Fest
May 5 - Dallas, TX/Intl Guitar Fest
May 10 - Tupelo, MS, Gumtree Festival
May 15 - New York, NY/The Loft at City Winery
May 18 - Durham, NC/Durham Blues & Brews Festival
May 17 - Washington DC/Pie Shop
May 27 - Asheville, NC/The Grey Eagle
May 30 - Atlanta, GA/Eddie's Attic
May 31 - Atlanta, GA/Eddie's Attic
June 1 - Indianola, MS/Club Ebony
June 9 - Delaware City, DE/St Georges Blues Fest
July 6-7 - Portland, OR/ Waterfront Blues Fest
July 13 - Nescopeck, PA/Briggs Farm Blues Fest
July 21 - Winthrop, WA/R&B Fest
July 27 - Sisters, OR/R&B Fest
Aug 3 - Mammoth Lakes, CA/Bluesapalooza
Aug 9 - Chattanooga, TN/Songbirds South Stage
Sept 13 - Los Angeles, CA/El Rey
DATES WITH BUDDY GUY:
Mar 21 - Orlando, FL/Hard Rock Live
Mar 22 - Fort Lauderdale, FL/Broward Center
Mar 29 - Houston, TX/House Of Blues
April 9 - San Juan Capistrano, CA/The Coach House
April 11 - Carmel, CA/Sunset Center
April 12 - Santa Rosa, CA/Luther Burbank Center
April 13 - San Francisco, CA/The Masonic
April 14 - Sacramento, CA/The Crest Theatre
May 1 - Nashville, TN/Ryman Auditorium
May 3 - LaGrange, GA/Sweetland Amphitheater
DATES WITH VAMPIRE WEEKEND:
Aug 16 - Oklahoma City, OK/The Criterion
Aug 17 - Houston, TX/White Oak Music Hall
Aug 18 - Irving, TX/Toyota Music Factory - Texas Lottery Plaza
Aug 20 - Austin, TX/ACL Live at the Moody Theater
Aug 21 - Austin, TX/ACL Live at the Moody Theater
Aug 24 - Miami, FL/James L. Knight Center
Aug 25 - St. Augustine, FL/St. Augustine Amphitheatre
Aug 27 - Atlanta, GA/Fox Theatre
Aug 30 - Norfolk, VA/Constant Convocation Center
Sep 03 - Boston, MA/Agganis Arena
Sep 04 - Philadelphia, PA/Mann Center for the Performing Arts
Sep 08 - Montreal, QC, Canada/MTELUS