News
Christone "Kingfish" Ingram Receives Grammy Nomination
[11/20/2019]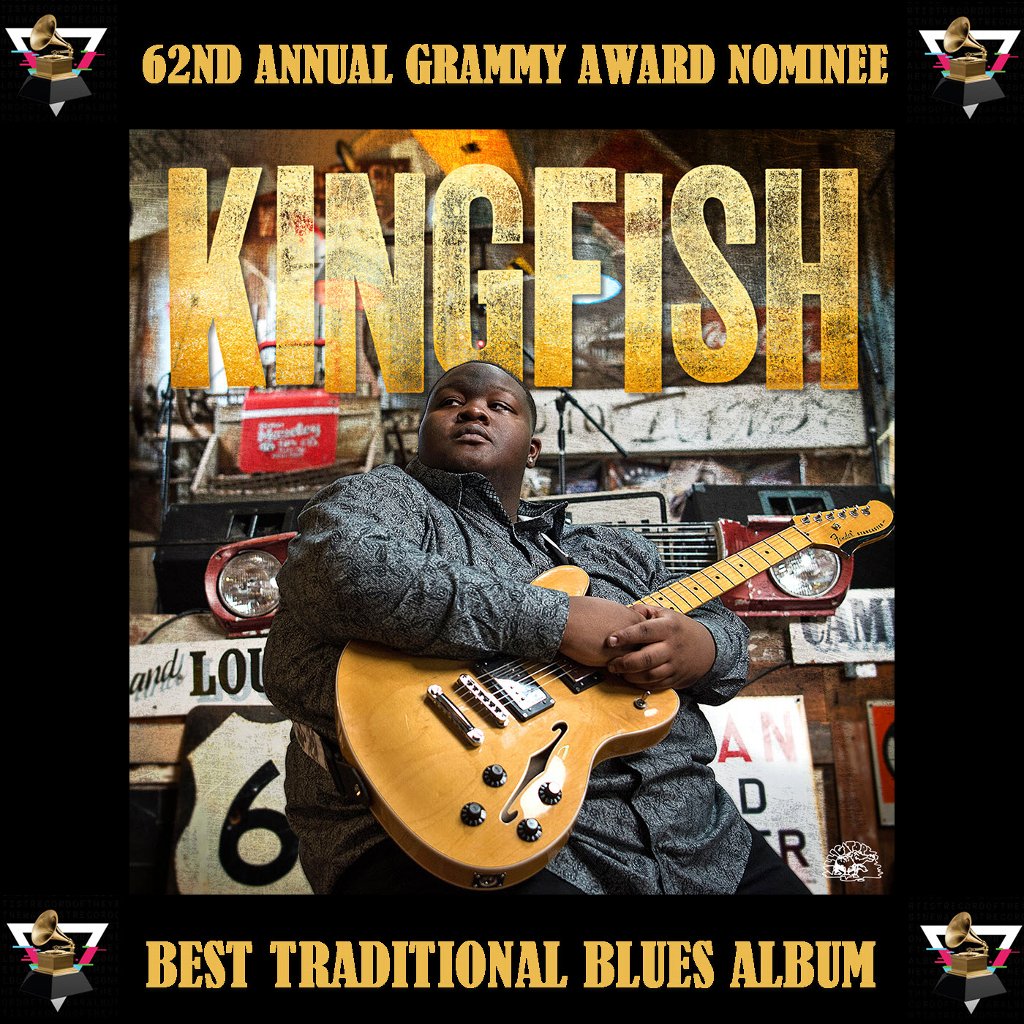 CHRISTONE "KINGFISH" INGRAM RECEIVES GRAMMY AWARD NOMINATION FOR DEBUT ALBUM
KINGFISH
Is Christone "Kingfish" Ingram the future of the blues? The blues savior is one of the most exciting young guitarists in years, with a sound that encompasses B.B. King, Jimi Hendrix and Prince.
–Rolling Stone
Kingfish is the next explosion of the blues.
–Buddy Guy
The blues phenom plays guitar like he's on fire.
–Guitar Player
Luxuriate in the glorious virtuosity of young blues lion Ingram.
–NPR Music
On Wednesday, November 20, the Recording Academy announced
Christone "Kingfish" Ingram
received a Grammy Award nomination for his debut album,
Kingfish
, on Alligator Records. The nomination is in the Best Traditional Blues Album category. The 62nd Annual Grammy Awards will be announced on January 26, 2020.
According to Ingram, "Waking up to see my name listed as a Grammy nominee next to some fantastic musicians and friends was an amazing feeling. Releasing my debut album this year was a life-long dream and I'm truly thankful, but honestly a bit numb to think that my album is up for a Grammy."
Since the release of his debut album
Kingfish
in May 2019, 20-year-old Clarksdale, Mississippi native Ingram has gigged nonstop and has been featured in newspapers, magazines, and on radio and television. Within the last few months, Ingram has played shows across the U.S.A., including dates with Buddy Guy, Vampire Weekend and Jason Isbell, as well as headlining his first-ever national tour, dubbed Fish Grease: A Juke Joint Tour.
Kingfish
debuted at #1 on the
Billboard
"Blues" and "Heatseekers" charts and continues to receive regular airplay on radio stations around the world. He was recently interviewed by Sir Elton John on John's
Apple Beats
podcast. UK tastemaker music magazine
MOJO
just named the album the #1 blues release of 2019.
With his eye-popping guitar playing and his reach-out-and-grab-you-by-the-collar vocals, Kingfish delivers each song with unmatched passion and precision. Steeped in the rich, vivid history of the blues, he's driven by his burning desire to create contemporary blues music that speaks to his generation and beyond. Kingfish is inspired by the music of Robert Johnson, but dreams of one day collaborating with Kendrick Lamar and soul-funk bassist Thundercat. "My core is blues," he says, "but it's important for me to create a sound and style that is uniquely my own. I have a lot to say, so please stay tuned."