News
Relix Premieres Blues-Rocker Tinsley Ellis' "Last One To Know"
[11/22/2019]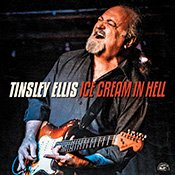 RELIX
TO PREMIERE BLUES-ROCKER TINSLEY ELLIS'
LAST ONE TO KNOW
New Album
Ice Cream In Hell
Out On January 31, 2020
Incendiary….Scalding guitar and banshee solos. Ellis mixes soul and fire.
--Premier Guitar
On Friday, November 22,
Relix.com
premieres
Last One To Know
, the blistering new song from world-renowned Atlanta-based blues-rock guitar virtuoso, soulful singer and prolific songwriter
Tinsley Ellis
. The song is the lead track from Ellis' highly-anticipated new Alligator Records album,
Ice Cream In Hell
, due out on Friday, January 31.
Last One To Know
is currently being aired nationally on SIRIUS/XM Radio's
B.B. King's Bluesville
, but for now can be streamed on-demand only at
Relix.com
.
Filled with blazing, every-note-matters guitar playing over the course of 11 instantly memorable original songs,
Ice Cream In Hell
is, according to Ellis, the most raw-sounding, guitar-drenched album of his career. Throughout the album, Ellis' deeply emotional, lyrical guitar solos perfectly match his fervent vocals.
Rolling Stone
says Ellis plays "feral blues guitar...non-stop gigging has sharpened his six-string to a razor's edge...his eloquence dazzles...he achieves pyrotechnics that rival early Jeff Beck and Eric Clapton."
Recorded in Nashville and produced by Ellis and his longtime co-producer Kevin McKendree (John Hiatt, Delbert McClinton),
Ice Cream In Hell
is a cathartic blast of blues-rock power. Though inspired by all three Kings (B.B., Albert and Freddie), as well by Carlos Santana, Hound Dog Taylor and others,
Ice Cream In Hell
is pure, unadulterated Tinsley Ellis.
Upon release of the new album, Ellis will hit the highway for a months-long tour, bringing his roof-raising, road-tested music to fans wherever they may be. "A musician never got famous staying home," says Ellis, who continues to perform over 150 nights a year. "I've seen it all," the Atlanta native says of his four decades on the road. "And a lot of my audience has been along for the entire time. It's not always easy. But the payoff is the music. That's the ice cream."