News
JJ Grey & Mofro To Appear On American Public Television's Front & Center
[10/04/2013]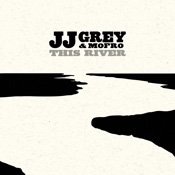 JJ Grey & Mofro, whose latest CD This River was described by Relix as "a classic, tantalizing slab of funky Florida-fried swamp rock, old school R&B and Southern-rock crunch," will appear in performance on the American Public Television music program Front & Center. The show, which was filmed in front of a sold-out crowd at New York's Iridium Club in June 2013, will begin airing on October 5 in the New York metropolitan area at 11:00pm on WLIW21. Airdates and airtimes will vary per market. For airdates in other markets check local listings here.
Since the release of This River, Grey has toured the U.S. and Europe, garnering the greatest reviews, the most radio airplay and largest audiences of his career. Grey's first video from the album, the single 99 Shades Of Crazy, has become an instant fan favorite.
The Oxford American says Grey is "the swami of swamp rock....Grey is a North Florida sage and purveyor of the funkiest swamp rock the world has ever heard." MOJO says Grey's music is "warm, horn-rich, and soulful. The quality of Grey's songwriting and delivery elevates the material."
JJ Grey & Mofro are currently getting ready to kick off the next leg of their tour, with shows across the East coast, the South and Midwest. Full tour dates are here:
http://www.alligator.com/on-tour/artist.cfm/aid/155/t/JJ-Grey-%26-Mofro/.