News
TOMMY CASTRO DISCUSSES NEW CD, THE DEVIL YOU KNOW, IN SERIES OF VIDEOS
[01/22/2014]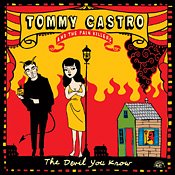 Guitarist/vocalist/songwriter
Tommy Castro
, whose new album
The Devil You Know
will be released today, January 21, discusses the creation of the album in a series of short YouTube videos:
The making of the title track:
http://www.youtube.com/watch?v=zUxNr-ujv0w
The making of the song
I'm Tired
:
http://www.youtube.com/watch?v=akjUT5ZGAx8&feature=youtu.be
The making of the song
She Wanted To Give It To Me
:
http://www.youtube.com/watch?v=pbkoQ-MotgA&feature=youtu.be
Castro is famed for his signature brand of tough, rocking rhythm and blues, thrilling fans around the world with his incendiary live performances. With his eyes and ears firmly on the future, Castro has stripped his music down to its raw essence as he rockets into the next phase of his storied career. "I'm always moving forward, going outside of my wheelhouse, listening to new music and incorporating new ideas," says Castro. "The contemporary blues scene is full of fresh, new sounds. It's an exciting time. A lot of folks are having hard times these days and they need something to lift them up and make them smile. Our music kills the pain."
The Devil You Know
, recorded in the Bay Area with his fiery new band The Painkillers and produced by Castro and Bonnie Hayes, is a contemporary blues tour-de-force. The album is an untamed, high-energy set of 13 songs, including nine written or co-written by Castro. Many of Castro's friends and admirers, including Alligator label-mates Marcia Ball and The Holmes Brothers, add their talents to the proceedings. Other guests include guitarists Joe Bonamassa and Mark Karan, guitarist/vocalist Tab Benoit, vocalists Samantha Fish and Tasha Taylor, and harmonica player Magic Dick. Each song comes loaded with emotional depth and muscular hooks courtesy of Castro's soulful singing, insightful lyrics, and dynamic, potent guitar playing. According to
Blurt
, "Castro is one of the greatest blues guitarists, songwriters and entertainers in the world today."
Confirmed tour dates are here:
http://www.alligator.com/on-tour/artist.cfm/aid/162/t/Tommy-Castro/
.