News
Elvin Bishop New Album World Premiere At Relix.com
[08/06/2014]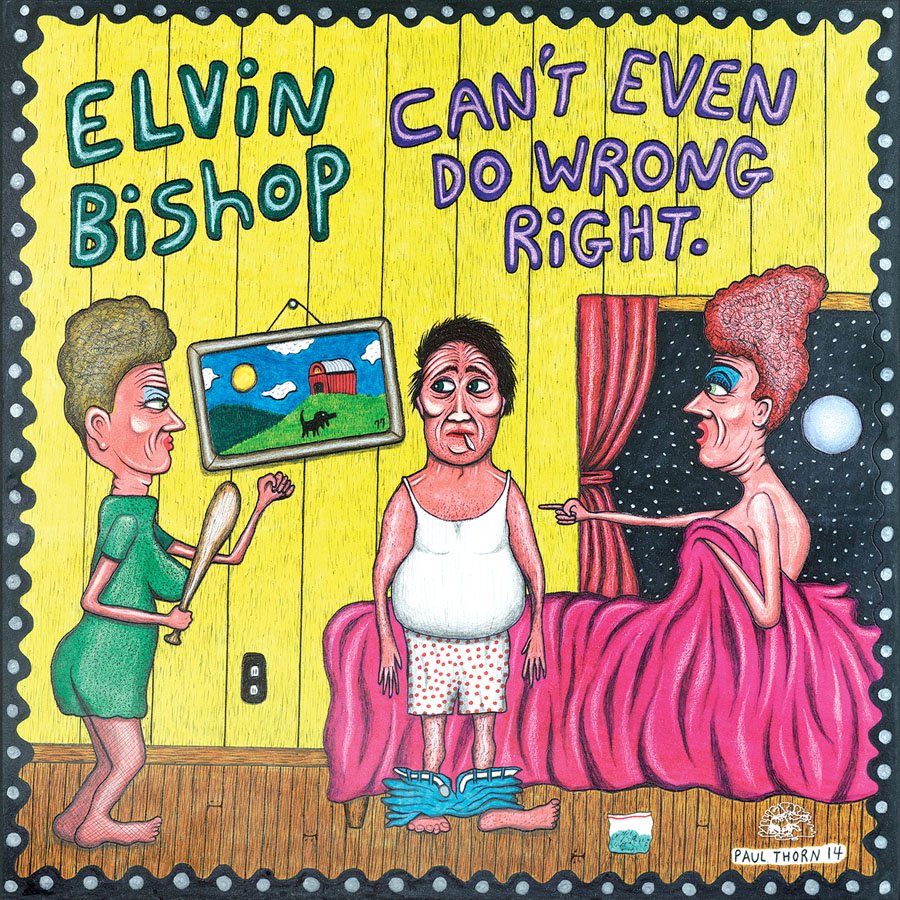 "MAKING-OF" VIDEO FEATURES BISHOP, CHARLIE MUSSELWHITE AND MICKEY THOMAS
Can't Even Do Wrong Right
, the new CD from the legendary
Elvin Bishop
, will exclusively premiere as a full album stream at
Relix.com
beginning Wednesday, August 6. The stream will be available here:
http://www.relix.com/media/audio/album_premiere_elvin_bishop_cant_even_do_wrong_right
. The album will be released on August 19.
In an enlightening behind-the-scenes video, Bishop and his friends Charlie Musselwhite and Mickey Thomas are having the time of their lives making the record. The video can be seen here:
https://www.youtube.com/watch?v=omyYA2syhhk
.
Bishop is currently riding high atop the charts, as his 1975 hit song,
Fooled Around And Fell In Love
(with vocals by Mickey Thomas) is included in the
Guardians of the Galaxy
soundtrack and film. This iconic musical pair joins forces once again on
Can't Even Do Wrong Right
, with Thomas' soaring vocals and Bishop's soulful slide guitar making
Let Your Woman Have Her Way
an instant classic.
With his "so-loose-they're-tight" road band behind him, along with friends Thomas and Grammy Award-winning harmonica player Musselwhite (on
Old School
and
No More Doggin'
), Bishop has created one of the best albums of his career.
Can't Even Do Wrong Right
finds Bishop playing, writing and singing some of the most spirited and distinctive blues and roots music today.
Of the new album, Bishop tells
Relix
, "It was kinda lucky how everything happened for this project -- the tunes fell out of the sky and the people I wanted turned out to be willing and available -- Mickey and Charlie and
the band
--wow. And [producer] Steve Savage put a helluva sound together for us."
Can't Even Do Wrong Right
proves that Bishop is as vital and creative an artist now as he was when he first hit the national scene in 1965 with The Paul Butterfield Blues Band. He is as slyly good-humored and instantly crowd-pleasing as he was when he was scoring Southern rock-styled hits during the 1970s. For five decades, he has never stopped touring or releasing instantly recognizable music featuring his groundbreaking playing, easy-going vocals, witty lyrics and good-time humor.
Can't Even Do Wrong Right
, with hilariously spot-on cover art by musician/artist Paul Thorn, finds Bishop firing on all cylinders and having fun while doing it. With this album, Bishop has created another highlight in a career that covers 50 years and over 20 albums. Five of the songs are Bishop originals. An outstanding instrumental version of Jimmy Reed's
Honest I Do
harkens back to Elvin's childhood: this was the very first blues song he heard coming from Nashville's WLAC, the late night R&B 50,000 watt powerhouse radio station, beaming all the way to his Oklahoma home. In the 1950s in Oklahoma, everything was racially separated except the radio ("They couldn't segregate the airwaves," Bishop recalls). Between the original songs, the well-chosen covers, Bishop's great band and his special guests,
Can't Even Do Wrong Right
hits its target at every turn.
Confirmed tour dates through October 2014 follow:
Aug. 15, 2014 Fargo Blues Festival - Fargo, ND
Aug. 17, 2014 Cobb Mountain Concert Series - Cobb, CA
Sep. 06, 2014 San Diego Blues Festival - San Diego, CA
Sep. 12, 2014 SPACE - Evanston, IL
Sep. 13, 2014 Liberty Bank Alton Amphitheater - Alton, IL
Sep. 27, 2014 Freight & Salvage Coffeehouse - Berkeley, CA
Oct. 04, 2014 Legendary Rhythm & Blues Cruise - Los Angeles, CA (through Oct. 11, 2014)
Oct. 17, 2014 Theatre Deville - Vacaville, CA