News
Selwyn Birchwood Releases First Video From New CD, PICK YOUR POISON
[06/14/2017]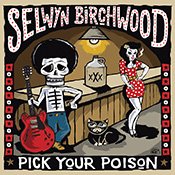 "A remarkable contemporary bluesman...a powerhouse young guitarist and soulful vocalist. A major player...highly recommended." –Rolling Stone

Guitarist, songwriter and vocalist
Selwyn Birchwood
has released the first video from his new CD,
Pick Your Poison
, for the song
Guilty Pleasures
. The video, depicting Birchwood happily sinking into the depths of decadence (but with a surprise ending!), can be seen
here
. The album currently sits in the Top 10 on the
Billboard
blues chart.
On June 6, 2017,
The Wall Street Journa
l reviewed
Pick Your Poison
, saying Birchwood is "a skilled, energetic and original artist...His songwriting is observant, clever and pointed. His voice is smooth; his singing on target. His guitar fluency generates new licks and rhythmic surprises. Expectations have been high for Mr. Birchwood—and he lives up to them here."
On
Pick Your Poison
, Birchwood, along with his band—saxophonist Regi Oliver, bassist Huff Wright and drummer Courtney "Big Love" Girlie—takes a major step forward, crafting visionary blues for a new generation of forward-looking fans.
Birchwood, who attacks his guitar and lap steel with searing intensity, wrote and produced all 13 songs on
Pick Your Poison
. The cutting-edge songs are made all the more impactful by Birchwood's gruff vocals, his untamed musicianship and his band's seemingly telepathic accompaniment. "I write and sing what I know," says Birchwood, whose innovations are as expansive as his influences. "This album has a broad reach. It's for young, old and everyone in between."
Birchwood's blistering instrumental skills, his trailblazing, instantly memorable songs and his gritty, unvarnished vocals place among the brightest young stars in the blues. His deep familiarity with blues tradition allows him to bust the genre wide open, adding new sounds, colors and textures, all delivered with a revival tent preacher's fervor and a natural storyteller's charisma.
The Washington Post
calls Birchwood a "tough, indelibly modern next generation bluesman."
Birchwood and his band will spend the summer performing across the US and Canada. His current tour schedule may be found
here
.