News
Tommy Castro & The Painkillers Announce STOMPIN' GROUND Tour
[09/19/2017]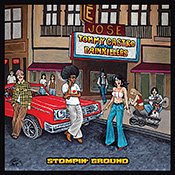 An inspired blend of high-energy blues, R&B and roadhouse rock…soulful, celebratory vocals and exquisite, stellar guitar
—Blues Revue
Swaggering, razor-wire gospel-tinged soul, simmering deep blues and hard-grooving house rockers
--AllMusic.com
Blazing blues-rockers Tommy Castro & The Painkillers, whose new CD
Stompin' Ground
will be released on September 29, have announced North American and European dates for their massive
Stompin' Ground
tour.
Guitarist, vocalist and songwriter Tommy Castro and the Painkillers – bassist Randy McDonald, keyboardist Michael Emerson and drummer Bowen Brown – have played hundreds of shows to thousands of music lovers, always leaving audiences screaming for more.
Billboard
says the band plays "irresistible contemporary blues-rock" with "street-level grit and soul."
On
Stompin' Ground
(available on CD as well as 180g yellow vinyl), Castro, a native of San Jose, CA, opens windows both into his past and his always-evolving musical future. Produced by Castro and guitar wunderkind Kid Andersen,
Stompin' Ground
finds Castro unleashing a set of 12 potent tracks featuring seven originals and new versions of songs he learned and played as a young up-and-comer. He is simultaneously looking back with autobiographical originals and cover songs that inspired him, while forging a forward trail with up-to-the-minute lyrics atop blistering blues-rock. Castro's friends Charlie Musselwhite (harp and vocals), Mike Zito (guitar and vocals), Danielle Nicole (vocals) and David Hidalgo (guitar and vocals) add their talents to
Stompin' Ground
. "I heard each one of my friends' contributions to these songs in my head as I was working on them. Happily, when I reached out and actually asked, everyone said yes."
With months of tour dates across the U.S. and Europe, Tommy Castro & The Painkillers will be bringing the songs from their new album directly to their fans.
No Depression
says, "Castro plays gritty, string bending blues like a runaway soul train…a glorious blend that rocks the soul and lifts the spirits."
Blues Revue
simply says, "Tommy Castro can do no wrong." With
Stompin' Ground
, he is clearly, once again, doing everything right.
Tour dates are below, and can also be found
here
:
TOMMY CASTRO & THE PAINKILLERS STOMPIN' GROUNDTOUR
Sep 22, 2017 Cruise for a Cause, San Francisco, CA (on the Hornblower's San Francisco Belle)
Sep 23, 2017 Folsom LIVE, Folsom, CA
Sep 29, 2017 Famous Dave's Uptown, Minneapolis, MN
Sep 30, 2017 Knuckleheads Saloon, Kansas City, MO
Oct 01, 2017 7 Oaks Blues Festival, Omaha, NE (at 7 Oaks Investments)
Oct 02, 2017 The Zoo Bar, Lincoln, NE
Oct 04, 2017 Shank Hall, Milwaukee, WI
Oct 05, 2017 The Castle Theatre, Bloomington, IL
Oct 06, 2017 FitzGerald's, Berwyn, IL
Oct 07, 2017 Park Theatre, Holland, MI
Oct 08, 2017 Callahan's Music Hall, Auburn Hills, MI
Oct 09, 2017 The Kent Stage, Kent, OH
Oct 10, 2017 B.B. King Blues Club, New York, NY
Oct 11, 2017 The Upper Room, Albany, NY
Oct 12, 2017 Sellersville Theater, Sellersville, PA
Oct 13, 2017 The Barns at Wolf Trap, Vienna, VA
Oct 14, 2017 The Southern Café & Music Hall, Charlottesville, VA
Oct 15, 2017 The Tin Pan, Richmond, VA
Oct 17, 2017 Neighborhood Theatre, Charlotte, NC
Oct 18, 2017 The Blue Note Grill, Durham, NC
Oct 19, 2017 Eddie's Attic, Decatur, GA
Oct 20, 2017 Skipper's Smokehouse, Tampa, FL with Samantha Fish
Oct 21, 2017 Legendary Rhythm & Blues Cruise Fort Lauderdale, FL 10/21/17-10/28/17
Oct 28, 2017 The Funky Biscuit, Boca Raton, FL
Oct 29, 2017 OM Bar & Chill Lounge, New Smyrna Beach, FL
Nov 01, 2017 Dosey Doe, The Woodlands, TX
Nov 03, 2017 Stargazers Theatre, Colorado Springs, CO
Nov 04, 2017 The Oriental Theater, Denver, CO
Nov 06, 2017 The State Room, Salt Lake City, UT
Nov 15, 2017 Spirit of 66, Verviers, BELGIUM
Nov 16, 2017 Gebr. de Nobel, Leiden, NETHERLANDS
Nov 17, 2017 Mezz, Breda, NETHERLANDS
Nov 18, 2017 Roepaen, Ottersum, NETHERLANDS
Nov 20, 2017 Kofferfabrik, Fuerth, GERMANY
Nov 21, 2017 Old Slaughterhouse, Soest, GERMANY
Nov 22, 2017 Meisenfrei Blues Club, Bremen, GERMANY
Nov 23, 2017 Musik & Frieden, Berlin, GERMANY
Nov 24, 2017 Yard Club Cologne, GERMANY
Nov 25, 2017 Blue Notez Club, Dortmund, GERMANY
Nov 27, 2017 New Morning, Paris, FRANCE
Dec 08, 2017 Freight & Salvage, Coffeehouse Berkeley, CA
Dec 31, 2017 Mystic Theatre, Petaluma, CA
Jan 11, 2018 The Rose, Pasadena, CA
Jan 12, 2018 The Coach House, San Juan Capistrano, CA
Jan 13, 2018 Belly Up Tavern, Solana Beach, CA
Jan 14, 2018 The Canyon, Agoura Hills , CA
Jan 16, 2018 The Rhythm Room, Phoenix, AZ
Jan 17, 2018 The Rhythm Room Phoenix, AZ
Jan 18, 2018 Boulder Station Casino, Las Vegas, NV
Jan 19, 2018 The Canyon Santa Clarita, Santa Clarita , CA
Jan 27, 2018 San Luis Obispo Vets Hall, San Luis Obispo, CA
Jan 28, 2018 Moe's Alley, Santa Cruz, CA
Feb 04, 2018 Legendary Rhythm & Blues Cruise, Fort Lauderdale, FL 02/04/18-02/11/18
Feb 20, 2018 Alberta Rose Theatre, Portland, OR