News
Alligator To Release JOURNEYS TO THE HEART OF THE BLUES By Joe Louis Walker, Bruce Katz And Giles Robson
[07/31/2018]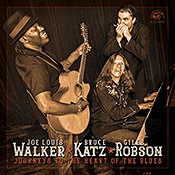 Alligator Records has acquired the rights to release
Journeys To The Heart Of The Blues
, a dynamic new acoustic album from three of the blues' best players. Together, Grammy-winning guitarist, vocalist and Blues Hall Of Famer Joe Louis Walker, virtuoso pianist Bruce Katz and next-generation British harmonica ace and bandleader Giles Robson take listeners on a musical tour of beautifully played, soulfully sung traditional blues. The album features a carefully chosen collection of eleven stripped-down, unadulterated rare and classic blues and one newly written instrumental performed by absolute masters of the form. Alligator Records will release the album throughout North America, Australia, New Zealand and Japan. Munich Records, a division of V2 Records Benelux, will release it in all other territories. The official street date, set for late autumn, will be announced soon.
The album was conceived in December of 2016 when Joe Louis Walker first met and jammed with Giles Robson at a festival in the Netherlands. Robson imagined recording an acoustic blues album with Walker. Walker quickly agreed, and suggested adding famed piano player Bruce Katz to the mix. The result is
Journeys To The Heart Of The Blues
.
Produced by Walker, Katz and Robson and recorded at NRS Studio in Woodstock, New York during a sub-zero stretch of weather in January of 2018,
Journeys To The Heart Of The Blues
captures three blues giants reinterpreting obscure and classic songs. The trio digs deep, playing with gimmick-free raw energy on songs by blues masters including Sonny Boy Williamson, Jazz Gillum, Blind Willie McTell, Smiley Lewis, Papa Lightfoot and Big Maceo. The songs may be old, but the recordings are fresh and vibrant. Walker's vocals and guitar have never sounded more soulful. Katz's virtuoso piano playing adds texture and depth, while Robson's har monica playing fuels the music to even greater heights. According to Robson, "
Journeys To The Heart Of The Blues
celebrates the dynamics, grooves, lyrics and feeling of pure, traditional blues. It's blues played intimately and at a low volume and with the wonderful space that is created when drums and bass are taken out of the equation."
NPR Music says Walker is "a legendary boundary-pushing icon of modern blues." With 23 solo albums and countless touring miles to his credit, he is among the blues' most honored players. Pianist Bruce Katz, with nine solo albums under his belt, has performed regularly with Delbert McClinton, Jaimoe's Jasssz Band, John Hammond and others, and is among the most in-demand pianists on the blues scene. Harmonicist Giles Robson has recorded three albums and has won fans all across the UK and Europe. Together, the interplay of these three master musicians borders on telepathic. They will be bringing the music on the road, beginning with European and UK dates in autumn of 2018, with more dates and locations to be announced.
Confirmed 2018 tour dates are as follows:
September 7
--
Foscani Blues Festival, ROMANIA
September 8
--
Rockstadt Club, Brasov, ROMANIA
September 13
--
Pizza Express Live, Maidstone, UK
September 14
--
Blues De Flux, Zaandam, NETHERLANDS
September 15
--
Pizza Express Live, Birmingham, UK
September 16
--
Pizza Express Jazz Club, Soho, LONDON, UK