News
Marcia Ball Wins 2018 Living Blues Readers' Poll Award
[08/07/2018]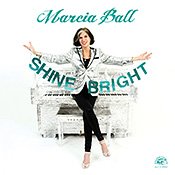 In the just-published issue #256,
Living Blues
magazine announced the recipients of their annual
Living Blues
Awards. Pianist Marcia Ball won the Readers' Poll Award For Most Outstanding Musician (Keyboard). This is Ball's 11th
Living Blues
Award.
Currently celebrating 50 years as a professional musician, Ball has won worldwide fame and countless fans for her ability to ignite a full-scale roadhouse rhythm and blues party every time she takes the stage. Her rollicking Texas boogies, swampy New Orleans ballads and groove-laden Gulf Coast blues have made her a one-of-a-kind favorite with music lovers all over the world.
The New York Times
says, "Marcia Ball plays two-fisted New Orleans barrelhouse piano and sings in a husky, knowing voice about all the trouble men and women can get into on the way to a good time."
With her new album,
Shine Bright
, Ball set out to, in her words, "Make the best Marcia Ball record I could make." In doing so, she has put together the most musically substantial and uplifting set of songs of her five-decade career. Ball's new songs are energized by Steve Berlin's inventive and exciting production, creating electrifying music that is daring, inspired, poignant and timely.
Shine Bright
is exactly the album Ball set out to make. "It is a ridiculously hopeful, cheerful record," she says, in light of some of the album's more serious subject matter. The secret, according to Ball "is to set the political songs to a good dance beat."
Ball will be inducted into the Austin City Limits Hall Of Fame in October 2018. She holds ten Blues Music Awards, eleven
Living Blues
Awards, and five Grammy Award nominations. She has been inducted into both the Gulf Coast Music Hall Of Fame and the Louisiana Music Hall Of Fame. The Texas State legislature named her the official 2018 Texas State Musician. According to
The Houston Chronicle
, "Marcia Ball's brand of blues lifts the spirit. She's as perfect an artist as could be."