News
Blues And R&B Vocalist And Drummer Lindsay Beaver Announces TOUGH AS LOVE Tour
[10/08/2018]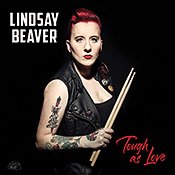 BLUES AND R&B VOCALIST AND DRUMMER LINDSAY BEAVER ANNOUNCES
TOUGH AS LOVE TOUR

Alligator Records Debut CD
Tough As Love
Set For October 12 Release
"She's like the love child of Amy Winehouse and Little Richard."
–Bruce Iglauer, Alligator Records president

"When I first started out, I couldn't find a singer I liked and I couldn't find a drummer I liked, so I decided to do both." –Lindsay Beaver
Blues-rocking, soul-singing drummer, songwriter and bandleader
Lindsay Beaver
has announced a major U.S. and Canadian tour in support of her Alligator Records debut,
Tough As Love
, due out on October 12. The album introduces her as a true force of nature with a sky's-the-limit future. Confirmed dates are below.
On the album and on stage, Beaver makes an immediate and unforgettable impression. Standing front and center at her kit, singing every song from the depths of her soul, she delivers blues, R&B and old school rock 'n' roll with punk rock energy, and sings with a voice brimming with attitude and soulfulness. She comes at every song with urgent intensity, soul-baring emotion, a distinct swagger and a take-no-prisoners confidence.
Tough As Love
, produced by Beaver, was recorded in Lindsay's current hometown of Austin, Texas. She wrote seven of the album's twelve tracks, the striking originals melding seamlessly with the perfectly-chosen covers. Her deep understanding of blues and roots rock traditions is a launching pad for her songs, combining electric urgency with skill and finesse.
Tough As Love
honors some of Beaver's inspirations (including songs by Little Willie John, Angela Strehli and Art Neville) while introducing her own unforgettable songs. Along with her touring band—guitarist Brad Stivers and bassist Josh Williams—well-known friends including Marcia Ball, Dennis Gruenling, Laura Chavez, Eve Monsees and Sax Gordon all add their talents to the proceedings.
Hailing from Halifax, Nova Scotia, Canada, Beaver possesses an old soul at the young age of 33. She is a classically trained vocalist and a jazz-trained drummer with a deep love and knowledge of roots music, from blues to jazz to R&B ballads to raucous rock 'n' roll. Live and on her recordings, she lays it all on the line, performing her signature mix of unforgettable originals and dance floor-filling versions of songs by artists as diverse as Sam Cooke and The Detroit Cobras.
Over the course of her career, Beaver self-released five albums by her previous band, the 24th Street Wailers, producing three of them.
Tough As Love
is her first release under her own name. "I like music with drive and passion," she says. "I write what I know and I sing what I know. At my shows, I want people to have fun and to be moved. I want everyone to be inspired to dance and I want at least some people to be moved to tears. And I definitely want every person to go home saying, 'I'm never going to forget this.'"
Lindsay Beaver Tough As LoveTour:
Oct 10, 2018 The Zoo Bar - Lincoln, NE
Oct 11, 2018 Barley Street Tavern - Omaha, NE
Oct 12, 2018 The Legendary Boobie Trap Bar - Topeka, KS
Oct 13, 2018 Knuckleheads Saloon - Kansas City, MO in the Gospel Lounge
Oct 14, 2018 Lefty's Live Music - Des Moines, IA
Oct 16, 2018 Lee's Liquor Lounge - Minneapolis, MN
Oct 18, 2018 Fretboard Brewing Company - Blue Ash, OH
Oct 19, 2018 FitzGerald's - Berwyn , IL in the SideBar Music Room
Oct 21, 2018 Chicago St. Pub - Joliet, IL
Oct 22, 2018 The Alamo - Springfield, IL
Oct 25, 2018 Blues City Deli - St. Louis, MO
Oct 26, 2018 Mercury Lounge - Tulsa, OK
Nov 03, 2018 The Rhythm Room - Phoenix, AZ
Nov 04, 2018 Malainey's Grill - Long Beach, CA
Nov 05, 2018 Maui Sugar Mill Saloon - Tarzana, CA
Nov 06, 2018 Thunderbird Analog Recording Studio - Oceanside, CA
Nov 07, 2018 The Torch Club - Sacramento, CA
Nov 10, 2018 Hermann's Jazz Club - Victoria, BC, CANADA
Nov 16, 2018 Mikey's on 12th Avenue - Calgary, AB, CANADA
Nov 17, 2018 Blues at the Bow Bow Island - AB, CANADA at the Bow Theatre
Nov 21, 2018 Blues on Whyte - Edmonton AB, CANADA
Nov 27, 2018 Nissi's - Lafayette, CO
Jan 25, 2019 BB's Jazz, Blues and Soups - St. Louis, MO
Jan 27, 2019 The Midway Tavern - Mishawaka, IN
Jan 30, 2019 Tip Top Deluxe Bar & Grill - Grand Rapids, MI
Apr 10, 2019 The Continental Club - Houston, TX
Apr 14, 2019 Daniel Day Gallery/Dream Mecca Studio - Birmingham, AL
Apr 17, 2019 Paradise Bar & Grill - Pensacola Beach, FL
Apr 18, 2019 Paradise Bar & Grill - Pensacola Beach, FL
Apr 20, 2019 Double Roads Tavern - Jupiter, FL
Apr 22, 2019 Earl's Hideaway - Sebastian, FL