News
Elvin Bishop's Big Fun Trio Receives Grammy Award Nomination
[12/07/2018]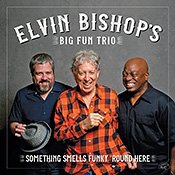 Deceptively loose but always tight…the raspy chuckle in Bishop's singing and the sharp sting of his guitar are forceful and fresh, enduring and fun.
–Fresh Air, NPR

Raw and simple and utterly endearing.
--RELIX
Elvin Bishop has always been big fun and is the ringmaster in his own blues circus. With Willy Jordan and Bob Welsh, Bishop whomps out tough, muscular and rollicking boogie-infused blues.
--No Depression
Legendary guitarist, singer and songwriter
Elvin Bishop
and his Big Fun Trio -- Bob Welsh on piano and guitar and Willy Jordan on cajón (a hand-played Peruvian drumbox) and vocals -- received a Grammy Award nomination in the Best Traditional Blues Album category for their 2018 Alligator Records album,
Something Smells Funky 'Round Here
.
Living Blues
calls it "joyously raunchy, fun-loving music." The album is a follow up to the group's 2017 Grammy-nominated self-titled debut.
Something Smells Funky 'Round Here
mixes rousing new originals, reinventions of three Bishop classics and some unexpected, soul-shaking covers. The potent title track – a tongue-in-cheek State Of The Union address as only Elvin can deliver -- kicks the album off with Bishop aiming his lyrical truths at those in power. The humorous but piercingly direct lyrics take aim at the current political scene while Bishop's deep blues guitar playing drives the point home. "This album fell together easily," says Bishop. "Everything I visualized about the songs – from Bob's playing to Willy's singing, came true. Bob and Willy are great musicians."
Rock & Roll and Blues Hall Of Famer Elvin Bishop formed The Big Fun Trio in late 2015 with his friends Welsh and Jordan. After playing just a handful of live dates, the group's instantly crowd-pleasing music and undeniable chemistry took the blues world by storm. With the release of their self-titled CD in 2017, media and fan response was immediate and overwhelming. According to Bishop, "With a trio there's no place to hide­—you've got to be pourin' everything you got right out front. You need to be totally into it all the time. It's really cool to see how people react to the goin'-for-it feel of the music."
Rolling Stone
calls Bishop "a legendary guitarist" whose playing is "impeccable and spirited…a distinguished American player."