News
Elvin Bishop To Be Honored And Perform at Arhoolie Awards Show
[11/06/2019]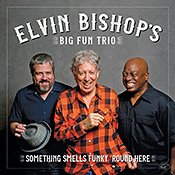 Elvin Bishop's Big Fun Trio To Perform At Second Annual Arhoolie Awards And Benefit Show To Be Held on November 22 In San Francisco
Deceptively loose but always tight…the raspy chuckle in Bishop's singing and the sharp sting of his guitar are forceful and fresh, enduring and fun.
–Fresh Air, NPR

Raw and simple and utterly endearing.
--Relix
Elvin Bishop has always been big fun and is the ringmaster in his own blues circus. With Willy Jordan and Bob Welsh, Bishop whomps out tough, muscular and rollicking boogie-infused blues.
--No Depression
Legendary guitarist, singer, songwriter and Rock 'N' Roll Hall Of Famer Elvin Bishop will receive the Chris Strachwitz Legacy Award from The Arhoolie Foundation at the second annual Arhoolie Awards And Benefit Show in San Francisco on Friday, November 22. Elvin Bishop's Big Fun Trio (Elvin on guitar and vocals, Bob Welsh on piano and guitar and Willy Jordan on cajón and vocals) will headline the event which will take place at The Chapel, 770 Valencia Street, in San Francisco. More information can be found at arhoolie.org/2019benefit.
The honor, according to Arhoolie.org, "recognizes exceptional musicians, teachers, community organizations, documentarians, and individuals working creatively to help keep tradition-based styles of music alive and moving forward. Nominations are made by board members, friends, and experts in our field. Winners are chosen by Chris Strachwitz and the Arhoolie Foundation board of directors. This award is simply meant to encourage, support, and shine a light on extraordinary individuals and organizations, and to help them continue their good work."
Bishop's latest Alligator Records release (and second with The Big Fun Trio) is Something Smells Funky 'Round Here. Living Blues calls it "joyously raunchy, fun-loving music." Both Something Smells Funky 'Round Here and their previous self-titled album, Elvin Bishop's Big Fun Trio, received Grammy Award nominations. According to Bishop, "With a trio there's no place to hide­—you've got to be pourin' everything you got right out front. You need to be totally into it all the time. It's really cool to see how people react to the goin'-for-it feel of the music."
Ever since Bishop first hit the scene with the Paul Butterfield Blues Band back in 1965, he's blazed his own musical trail. Whether he was playing raw, eye-popping blues, or penning the evergreen radio hit Fooled Around And Fell In Love, or touring the world for decades delivering his original, good-time countrified blues, Bishop has always inspired his fans with his rowdy guitar playing and witty, slice-of-life songs. Rolling Stone calls Bishop "a legendary guitarist" whose playing is "impeccable and spirited…a distinguished American player."
Remove Song
Clear Playlist
Sorry your browser doesnt support the player
The Alligator Player is currently running
in a pop-up window.
Click Here to Return