News
CHRISTONE "KINGFISH" INGRAM ANNOUNCES U.S. & EUROPEAN TOUR DATES, PREMIERES NEW 662 VIDEO
[06/21/2021]
CHRISTONE "KINGFISH" INGRAM ANNOUNCES U.S. & EUROPEAN TOUR DATES,

PREMIERES NEW 662 VIDEO
New Tour, Christone "Kingfish" Ingram Presents 662: Juke Joint Live
With Dates Into February 2022

Juke Joint Live Music Video For 662 Premieres Today
Christone "Kingfish" Ingram represents the next generation of great American blues artists.
—PBS NewsHour

Ingram plays guitar with dramatic, searing tone and sure-handed authority. And that's just in the studio; he's even scarier live. —NPR Music


Christone "Kingfish" Ingram is the future of the blues, singing and playing with edge, verve and vitality. Stinging guitar...sweet and melodic vocals.
—Guitar World
Today, Monday, June 21, Christone "Kingfish" Ingram announced the dates for his upcoming tour to promote his dynamic new Alligator Records album, 662, set for July 23 release. Entitled Christone "Kingfish" Ingram Presents 662: Juke Joint Live, the tour will take the 22-year-old guitarist, vocalist and songwriter across the U.S. and Europe beginning July 2021 and going into February 2022. Today also saw the premiere of Ingram's Juke Joint Live music video for the album's first single, the title track, 662.
---
Click here to watch the
662
video.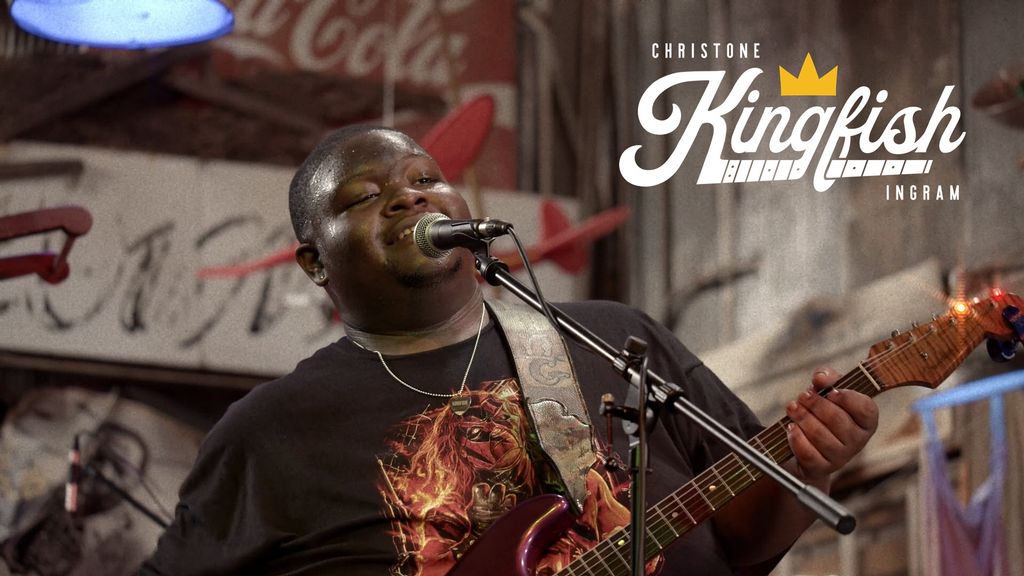 ---
"Obviously this hiatus was necessary," says Ingram, "but it's been a long, tough period for a lot of people. I was fortunate to stay healthy and I certainly tried my best to stay productive during my downtime. Now, with my new album release and my latest Juke Joint tour both happening in July, I'm thankful and excited for what's to come. But, I'm also reflective and sympathetic for everyone who has been adversely impacted by Covid in any way."
The first single,
662
's title track, made its worldwide premiere on SiriusXM's
B.B. King's Bluesville
channel. The song immediately became the #1 Most Added Single on the influential BDS AAA (Adult Album Alternative) Indicator Radio Chart.
Guitar World,
who in 2020 named Kingfish one of the top 30 guitarists in the world, said, "On
662
, Ingram takes things all the way back to the place that shaped him, his hometown of Clarksdale, Mississippi. Anchoring the song with a hot-rodded, Delta-by-way-of-Chuck Berry riff, and punctuating the proceedings with sweet touches of high-gain, fleet-fingered blues guitar glory, Ingram gives a perfect tribute to the birthplace of the blues, showing all the while that the genre is still incredibly vital."
Of the new album, Ingram says, "
662
is an ode to my roots, a nod to the area where I was born and raised. The title track,
662
, encompasses how a small corner of the earth influenced my view of life and music. It also points to the growth I have had since my debut album. As much as I have been fortunate to get 'Outside Of This Town' (the title of his breakout single from his 2019 Grammy-nominated debut album,
Kingfish
), I do want people to know that the '662' will always be a major part of who I am."
Christone "Kingfish" Ingram Presents 662: Juke Joint Live

All tickets will go on sale Friday, June 25. The support acts on this tour will be The Cerny Brothers, The Peterson Brothers, and Ally Venable.
| | | |
| --- | --- | --- |
| 2021 U.S. Dates: | | |
| Friday, July 23, 2021 | Gary, IN | Hard Rock Casino |
| Saturday, July 24, 2021 | Gary, IN | Hard Rock Casino |
| Tuesday, August 10, 2021 | Cincinnati, OH | Ludlow Garage |
| Wednesday, August 11, 2021 | Kent, OH | The Kent Stage |
| Thursday, August 12, 2021 | Warren, OH | Robbins Theatre |
| Friday, August 13, 2021 | Charlottesville, VA | The Jefferson Theatre |
| Wednesday, September 8, 2021 | New York, NY | Webster Hall |
| Friday, September 10, 2021 | San Juan Capistrano, CA | The Coach House |
| Wednesday, September 15, 2021 | Los Angeles, CA | El Rey Theatre |
| Sunday, September 19, 2021 | Nashville, TN | Ryman Auditorium |
| Wednesday, September 29, 2021 | Odessa, TX | The Ector Theatre |
| Thursday, September 30, 2021 | Dallas, TX | The Kessler Theatre |
| Friday, October 1, 2021 | Houston, TX | The Heights Theatre |
| Saturday, October 2, 2021 | Austin, TX | The Paramount Theatre |
| Wednesday, October 20, 2021 | San Francisco, CA | The Regency Ballroom |
| Friday, October 22, 2021 | Denver, CO | Summit |
| Sunday, October 24, 2021 | Salt Lake City, UT | The Depot |
| Sunday, November 14, 2021 | Stuart, FL | The Lyric Theatre |
| Wednesday, November 17, 2021 | Baltimore, MD | Soundstage |
| Thursday, November 18, 2021 | Washington, DC | Sixth & I |
| Friday, November 19, 2021 | Glenside, PA | Keswick Theatre |
| Saturday, November 20, 2021 | Harrisburg, PA | Harrisburg University Presents |
| | | |
| 2022 European Dates: | | |
| Tuesday, January 25, 2022 | Glasgow, UK | Celtic Connections |
| Thursday, January 27, 2022 | London, UK | Islington Assembly Hall |
| Saturday, January 29, 2022 | Amsterdam, Netherlands | Melkweg |
| Monday, January 31, 2022 | Berlin, Germany | Hole 44 |
| Tuesday, February 1, 2022 | Hamburg, Germany | Fabrik |
| Wednesday, February 2, 2022 | Paris, France | La Maroquinerie |
| | | |
| --- | --- | --- |
| 2021 Festival Dates: | | |
| Saturday, August 14, 2021 | Reading, PA | Berks Jazz Fest |
| Saturday, August 21, 2021 | Norwich, NY | Chenango Blues Festival |
| Saturday, August 28, 2021 | Cockeysville, MD | Hot August Music Festival |
| Sunday, August 29, 2021 | Augusta, NJ | Michael Arnone's Crawfish Fest |
| Saturday, September 4, 2021 | Manchester, TN | Bonnaroo Music Festival |
| Sunday, September 5, 2021 | High Point, NC | John Coltrane International Jazz & Blues Festival |
| Saturday, September 11, 2021 | San Diego, CA | San Diego Blues Festival |
| Sunday, September 12, 2021 | Las Vegas, NV | Big Blues Bender |
| Saturday, September 18, 2021 | Camden, NJ | XPoNential Music Festival |
| Sunday, October 3, 2021 | Memphis, TN | Mempho Music Festival |
| Saturday, October 9, 2021 | Robinsonville, MS | Horseshoe Tunica - Bluesville |
Remove Song
Clear Playlist
Sorry your browser doesnt support the player
The Alligator Player is currently running
in a pop-up window.
Click Here to Return