Professor Longhair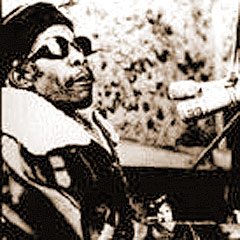 Biography
New Orleans is said to be a city where having a party has been elevated from a casual pastime to a way of life. Nobody understood this better than Professor Longhair, one of the pioneers of New Orleans rhythm & blues. His influence can be heard in Fats Domino, Allen Toussaint and Dr. John, among many others. Known for his unique mix of blues, jazz, calypso, ragtime, and zydeco, "Fess" (as he was known) defined and captured the essence of New Orleans in his music. Born Henry Roeland Byrd in Bogalusa, Louisiana 1918, and raised in New Orleans, Fess started performing at an early age, often dancing down Bourbon Street for tips. In addition to piano, he learned to play guitar and drums in the early 1930s and was in and out of numerous bands. He soon found there were better ways to make money than music. He worked as a cook, then as a boxer, and eventually became a professional card player. It wasn't until the late 1940s that he returned to music. He went into the army during World War II, and was discharged in 1943. At that point he led a variety of groups, including the Mid Drifs, Professor Longhair and the Four Hairs, and Professor Longhair and His Shuffling Hungarians. He made his recording debut with the latter group in 1949 on the Star Talent label. A year later he had a new group and a new label. The Blues Jumpers recorded for Mercury, which released
Bald Head
, the only Professor Longhair ever to make the R&B charts, peaking at number five. Longhair recorded for Atlantic and Federal, and many smaller labels such as Edd, Ron, Rip. Despite recording such classics as
Tipitina
,
Big Chief
, and
Going To The Mardi Gras
, he never received much exposure outside of Louisiana, although his reputation in New Orleans was substantial. With songs like
Tipitina
,
Hey Now
,
Baby
,
In The Night
,
Big Chief
, and the great
Going To The Mardi Gras
, Fess was the reigning king of New Orleans. Even though a New Orleans legend, Fess was forced to support himself by returning to cards and working as a janitor in the mid-1960s. Luckily, he was rediscovered in the early 1970s and performed at the New Orleans Jazz and Heritage Festival in 1971. He played the New Orleans festival every year thereafter until his death. He toured Europe, headlining the 1973 Montreux Jazz Festival. Paul McCartney flew him to California in 1975 to play an exclusive private party on the Queen Mary. He was an idol to people who were not even born when
Bald Head
was a hit. Of his many recordings, however, perhaps his best and most fully realized is
Crawfish Fiesta
, recorded for Alligator Records in 1979. Bruce Iglauer, president of Alligator Records, continues the story. "I was on the phone with Professor Longhair's manager, and I mentioned that I'd love to record Fess for Alligator. I loved his eccentric, rhumba-blues New Orleans piano style and wild, cracked vocals, and he was one of my favorite musicians. I flew down to New Orleans and listened to the master pound out all his old hits and a slew of Crescent City R&B standards. I made an offer, and, much to my amazement, it was accepted. Surrounded by friends (including Dr. John on guitar) and finding himself in a studio situation where he was completely in charge (maybe for the first time ever), Professor Longhair presented Alligator with perhaps the finest album of his long career and one of the best Alligator ever released." The album shipped out on January 30, 1980, the day Professor Longhair died.