Detroit Junior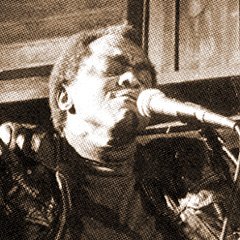 Biography
Everyone on the Chicago blues scene knows Detroit Junior. He's the irrepressible little guy standing behind a battered piano, shouting out blues tunes in his scratchy, too-many-cigarettes-and-too-much-whiskey voice. And when the music gets good to him, he might drop to his knees and crawl under the piano, playing his solo with only his hands visible. His piano, voice and antics have been featured in a dozen bands, especially those of Howlin' Wolf and Eddie Shaw, and in recent years he's established his own recording career.
Fewer fans know Junior for his other talent--he's one of the finest (and funniest) composers in blues. A couple of his songs have become standards: "Call My Job," which was a hit for Albert King, and the perennial favorite, "Money Tree." Koko Taylor has recorded three of his tunes. In fact, almost every song Junior has recorded over his fifty-year career has been an original. Emery Williams, Jr. was already an experienced entertainer and piano player when came to Chicago in 1956 (from Detroit, of course, though he originally hails from Haynes, Arkansas where he was born in 1931, and spent his childhood in southern Illinois). He had been leading his own band, the Blues Chaps, since he was 19, playing clubs in Pontiac and Flint. For three years they had been the house band at The Circle Club in Detroit, backing touring stars like Roscoe Gordon, Eddie Boyd, John Lee Hooker and Amos Milburn. Milburn was Junior's idol, and his humorous blues about the evils of alcohol inspired some of Junior's best songwriting.
It was Eddie Boyd who first brought Junior to Chicago, hoping to line up a contract for him with Chess Records. The Chess deal didn't work out at first, but Junior fell in with J.T Brown, the city's leading blues sax man. They landed a gig at Club 99, then at the legendary Squeeze Club. Junior quickly won a following with his percussive piano and energetic stage show. He paired up with harp man Little Mack Simmons, and they settled into a steady gig as house band at Cadillac Baby's South Side club. Cadillac ran his own label, Bea & Baby, and soon had the piano man in the studio to cut his first 45, "Money Tree." That record marked the first appearance of "Detroit Junior;" before that time he had been known as Little Junior Williams, but Cadillac dubbed him with a new nickname on the record label, and when the record became a local hit, the nickname stuck.
Chess Records, sensing they had missed something, signed Junior, but subsequent singles didn't sell, and he cut for Foxy, CL and Palos before waxing his next hit, the original "Call My Job," on U.S.A., in 1965. The flipside, "The Way I Feel," a spontaneous and sensitive piano solo, proved that Junior had talent for deep blues as well as novelty tunes.
During the '60s, Junior gigged with Mack Simmons, Eddie Taylor, Sam Lay and Johnny Twist. From 1968 on, he toured and recorded with the late Howlin' Wolf, playing everywhere from college auditoriums to Big Duke's Flamingo club (a converted funeral parlor that never quite lost its original ambiance). When the Wolf died, Junior stuck with the band, The Wolf Gang, under the leadership of sax man Eddie Shaw for a number of years.
These days, Junior still appears on the North Side at clubs like Kingston Mines. Although he's slowed down a little since he lost a leg to diabetes (which you'd never know seeing him on stage), when he's up there pounding the piano and half-singing, half-talking his original songs, he still pumps out the energy of a man half his age. And he's still writing those terrific, hilarious songs.
Discography
1980 Living Chicago Blues, Vol. 4 (Alligator)
1995 Turn Up The Heat (Blue Suit)
1997 Take Out The Time (Blue Suit)
2004 Live At The Toledo Museum of Art (Blue Suit)
2004 Blues On The Internet (Delmark)