Johnny Copeland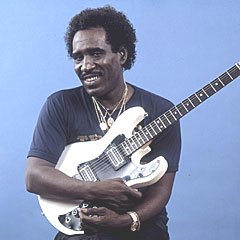 Biography
Along with his friend Albert Collins, Johnny Copeland was the most celebrated Texas bluesman of his generation. His huge, soul-drenched voice and intense guitar made him instantly distinctive. After decades of struggling as a journeyman blues and R&B player in Houston and New York, cutting dozens of singles and receiving some radio play, he burst on the international blues scene with his album
Copeland Special
. From that point on, he never looked back, touring ceaselessly around the world until his death in July 1997.
Johnny Copeland was born March 27, 1937, in Haynesville, LA. The son of sharecroppers, his father died when he was very young, and Copeland was given his father's guitar. Moving to Houston, he first gained attention as a vocalist with his friend Joe "Guitar" Hughes. Unlike the dry, slightly urbane vocal style of the Texas guitar heroes T-Bone Walker and Gatemouth Brown, Johnny brought a gospel intensity and tough growl to his singing. His big voice could be heard over the horn-driven Houston bands. Copeland and Hughes formed a band called The Dukes of Rhythm, which became the house band at the Shady's Playhouse, one of Houston's leading blues clubs.
Johnny's early recording career embraced blues, soul and rock 'n' roll. He cut singles for Mercury, All Boy and Golden Eagle, among others. His first single was "Rock 'n' Roll Lily," and he later cut regional successes like "Please Let Me Know" and "Down On Bending Knees." For the most part, his singles featured Johnny as a vocalist more than as a guitar player.
Frustrated with the disco boom and the number of clubs replacing live bands with DJs, Johnny moved to Harlem in 1974, playing local clubs and house parties. He took a day job while continuing to play at night. But it was in New York that his break finally came. He was "discovered" by a pair of producers who took him into the studio, focusing on Johnny's blues talents and teaming him with a horn section that included a number of famous jazz players. The album, entitled
Copeland Special
, released on Rounder, introduced Johnny to the white blues audience and created a small sensation in the blues world. He hit the road, playing blues and rock clubs nationally and across Europe. Johnny brought endless energy to his live shows, and proved to be a charismatic front man as well as an excellent songwriter.
Copeland recorded seven albums for Rounder Records, beginning in 1981, including one recorded during a tour of Africa. His appearance on Alligator's
Showdown!
album, the classic recording that he made with his friends Albert Collins and Robert Cray, won Johnny a Grammy. His later albums on Polygram/Verve/Gitanes Blues continued his series of quality recordings.
Johnny was diagnosed with heart disease in 1994. A series of surgeries slowed his touring down considerably. In 1997, he was fitted with an experimental heart pump and was able to resume touring. He brought his teenage daughter Shemekia on the road with him to open his shows; it was the beginning of her climb to blues stardom.
After surviving much longer than predicted with the experimental pump, Johnny received his long-awaited heart transplant. However, the transplant was not a success, and Johnny died on July 3, 1997. He left behind a proud legacy of some of the hardest-edged Texas blues recorded in the '80s and '90s, hundreds of high-energy live shows and, with his daughter Shemekia, a musical force carrying on into the future.
Discography
1981 Copeland Special
1982 I Make My Home Where I Hang My Hat (Rounder)
1983 Texas Twister (Rounder)
1984 I'll Be Around (Mr. R&B) (reissue of early singles)
1985 Down On Bending Knee (Mr. R&B) (reissue of early singles)
1885 Showdown! (Alligator)
1986 Bringin' It All Back Home (Rounder)
1988 Ain't Nothin' But A Party (Rounder)
1988 Houston Roots (Ace) (reissue of early singles)
1988 When The Rain Starts Fallin' (Rounder)
1990 Boom Boom (Rounder)
1992 Flyin' High (Verve)
1993 Further Up The Road (Aim)
1994 Catch Up With The Blues (Verve)
1996 Jungle Swing (Verve)
1997 Live In Australia 1990 (Black Top)
1999 Working Man's Blues (Aim)