Lacy Gibson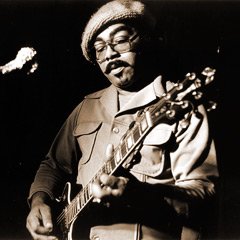 Biography
From the 1950s through the 1970s, Lacy Gibson was a familiar sight on the bandstands of Chicago's blues clubs. But he was never a big star, even though his talent equaled that of many major names. Until recent health problems virtually sidelined him, Lacy was a "musician's musician," a secret weapon in dozens of bands.
His rich voice and flashy, unpredictable guitar style made him one of the most in-demand players in Chicago. He opened for and backed Jimmy Reed (including at the Ann Arbor Blues Festival in 1973). He spent two years delivering fiery opening numbers for his boss and bandleader, Son Seals. He was a key member of the bands of Billy "The Kid" Emerson, Otis Rush and Abb Locke. And these are just some of the musical roles that Lacy assumed over almost fifty years of playing in Chicago.
Lacy credits his mother for much of his style and inspiration. During his youth in Salisbury, North Carolina, she taught him the hillbilly guitar style she played so well, and also the rich gospel-tinged singing that still marks his increasingly rare performances today. After moving to Chicago at the age of thirteen in 1949, Lacy began hearing hard blues for the first time. He idolized Lowell Fulson, T-Bone Walker, B.B. King and of course local hero Muddy Waters. But Lacy's background included other music than blues, and he struggled to be a complete guitarist. "Lefty Bates taught me a lot," he recalls (Lefty worked with everyone from Jimmy Reed to the Ink Spots), and lessons also came from Matt "Guitar" Murphy, Wayne Bennett, T-Bone and longtime friend Milton Rector, all of whose music spanned jazz, blues and popular favorites.
After his first gig, with C.T. Tolbert and his Counts of Rhythm, Lacy joined Rector in a band called The Chicago Flames, playing pop and jazz hits of the '50s as well as a taste of the blues. They played supper clubs and cocktail lounges as well as blues clubs, occasionally backing jazz vocalists, but with Lacy handling most of the singing. Since the '50s, Lacy has worked with "damn near all of 'em," from Willie Mabon and Billy Emerson to Lowell Fulson, Ray Charles, Jerry Butler, Red Holloway and Al Hibbler.
Lacy is no stranger to the recording studio. He worked frequently as a session man, with Willie Dixon, Fred Below, Mabon, Emerson and others, and cut two 45s for the Repetto label. Perhaps his most unusual recording is an album for Sun Ra's El Saturn label, cut when Lacy and Ra were brothers-in-law.
Lacy's best bandstand exposure probably came during his two years on the road with Son Seals. After playing together at Louise's South Park Lounge, they toured Europe twice, traveled through the Northeast, and cut Son's classic album, Live And Burning at the Wise Fools Pub in Chicago. Lacy's warmup workouts were a highlight of Son's show. When Lacy went into the studio for Alligator's Living Chicago Blues series, he naturally used Son's band, adding keyboard man King Solomon (who ended up as another member of Son's group) and a European friend, Sebastian Danchin, who had toured with the band in France. With a repertoire of songs they had played night after night on the bandstand, Lacy laid down the blues with the conviction that can only come from a man whose departing lady once took his false teeth with her.
After leaving Son's band, Lacy continued to practice the versatility of which he is so proud. He toured and recorded with Willie Dixon, worked at the rejuvenated South Park Lounge, played at The Poinciana on the West Side with Willie James Lyons and gigged with tenor man Abb Locke. He recorded a fine album called Switchy Titchy for the Dutch label Double Trouble, and a '70s session was issued on Delmark under the title Crying For My Baby. These days, Lacy isn't as musically active as he was in the '70s, but he sometimes helps operate an after hours club on the West Side, and still plays occasional late night unadvertised shows there. He made a strong appearance the 1994 Chicago Blues Festival and showed that he has lost little of his talent for sophisticated, soulful blues.
1980 Living Chicago Blues, Vol. 3 (Alligator)
1982 Switchy Titchy (Double Trouble)
1996 Crying For My Baby (Delmark)