Left Hand Frank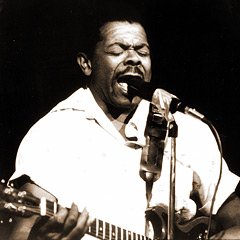 Biography
Left Hand Frank was a fun loving, powerfully built bluesman who liked to amuse audiences in Chicago's South Side blues clubs with comical Donald Duck imitations and muscle-flexing tricks. But what crowds enjoyed even more was the way Frank Craig played guitar. Employing a confident, four-fingered picking style, he played his axe upside down, like several other left-handed bluesmen, with the treble strings at the top. And he played some of the strongest, most distinctive vintage blues to be heard in Chicago.
Frank worked in countless bands during his nearly 40 years in Chicago. He was probably the best musician in most of those groups. But until 1978, Frank never played guitar or sang on a record. Frank found that it was more fun to be a sideman, and he never thought much about becoming a headliner or leading a band.
"Mainly, I don't like to be worried with it," Frank explained. "I've had quite a few jobs myself, but guys don't want to act right. It's too much of a headache. I'd switch over and put that headache on somebody else. I hate to have a headache."
So Frank left the band leading headaches to bluesmen like Junior Wells, Little Walter, Hound Dog Taylor, and Willie Cobbs. Frank was happy just to play guitar or bass as part of someone else's band.
When Frank started playing in his hometown of Greenville, Mississippi, he didn't even have to worry about bands. He could stroll the streets, playing by himself to earn tips from passersby. He got his first guitar on his fourth birthday, October 5, 1939, and quickly learned both blues and country & western from older musicians who were always at his house buying homebrewed corn whiskey from Frank's mother. Before moving to Chicago at the age of 14, young Frank performed at the local sheriff's parties, at the local fairgrounds, and around the countryside, carrying his guitar with him on the bus and playing wherever people would pay to see such a child prodigy.
During the early '50s in Chicago, Frank was still a street and house party musician, too young to be allowed in the taverns. But he lived within a block of two blues clubs, The Zanzibar and Vi's Lounge. Frank and two teenaged friends, guitarist Eddie King and bassist Willie Black, eagerly listened at the door whenever Muddy Waters, Little Walter, Memphis Slim or Howlin' Wolf were performing. After some intense rehearsals, the trio started playing outside The Zanzibar and Vi's, sharing wine and whiskey with the onlookers. "We'd have a bigger crowd outside than they did inside!" Frank would laugh.
Willie Cobbs, originator of the blues standard "You Don't Love me," hired the young bluesmen (who had boldly named themselves the Chicago All-Stars) to work with him in the West Side clubs and on the road. Jimmy Rogers and Lee Jackson let Frank sit in on bass at The Squeeze Club, and in the mid-'50s, Frank began a long association with his steadiest employer, guitarist James Scott, Jr., at Joe's 1015 Club on 43rd Street. There were also gigs with Jimmy Dawkins at The Pink Poodle, with Delta bluesman Boyd Gilmore in Pine Bluff, Arkansas, and with Good Rockin' Charles at a West Side club where the crowds "barn danced" to Frank's country breakdowns. In the '60s, Frank, who was working as a manual laborer during the daytime, played with Junior Wells, Junior Simpkins, Willie Williams, Carey Bell, Little Arthur Gray, Hound Dog Taylor, Little Walter and others, including Willie Cobbs and James Scott again at times. Frank recorded, as a bass player, on an Eddie King single in 1960 and on later sessions behind Morris Pejoe, Little Eddie Newell and Willie Williams.
Frank was just as active, and just as sought after by various bandleaders, in the '70s. He was a regular with Johnny Bernard's group at Louise's, Porter's, and other South Side clubs, and continued to work on and off with James Scott. He was a familiar face at the famed Sunday afternoon jam sessions at Florence's, where Hound Dog Taylor held forth for years. In the late '70s, Frank teamed up with two young white newcomers, Dimestore Fred and Pocketwatch Paul, who appeared on his recording debut on Alligator's Living Chicago Blues series. Frank's session proved him to be totally rooted in the raw, Delta-based Chicago style of the 1950s, bringing to mind his friends Magic Slim, Jimmy Rogers and Brewer Phillips.
In the 1980s, Frank moved to Los Angeles to live with his sister. His declining health and a series of surgeries led to his abandoning music, and he eventually died in California. An album of a live performance is still in print on a French label.
Discography
1978 Living Chicago Blues, Volume I (Alligator)
1994 Live At The Knickerbocker Café (New Rose)