Little Smokey Smothers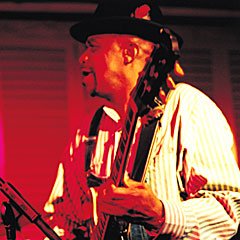 Biography
Little Smokey Smothers is one of the unsung Chicago South Side blues stalwarts, a respected musician who never found the national or international spotlight, but has made terrific, soulful blues in his hometown for fifty years.
Albert Smothers was born on January 2, 1939 in Tchula, Mississippi. He began playing guitar at age 15 and soon headed for Chicago. Almost immediately upon arriving in Chicago, Little Smokey landed gigs with Arthur "Big Boy" Spires and pianist Lazy Bill Lucas. He played with Magic Sam, Muddy Waters, Earl Hooker and Paul Butterfield. He joined up with the great Howlin' Wolf in 1958 and stayed with him for three years. Little Smokey can be heard on such classic Wolf recordings as "I've Been Abused," "Howlin' For My Darlin'" and "Mr. Airplane Man." Smothers then formed his own band, Little Smokey Smothers and the Pipelayers, and gigged around Chicago at the Blue Flame, the Playhouse and Pepper's Lounge. The band covered, in Smothers' words, "nearly everything on the jukebox," and they would often play behind big stars like Ben E. King when they performed at the famed Regal Theatre.
It was right around this time that Smothers met Elvin Bishop. The two became close friends, with Elvin often hanging out at Smothers' apartment, playing guitar together, many times performing impromptu shows for the neighbors or anyone who would listen. "He was a young kid, trying to learn how to play," recalls Smothers about Elvin. "But he really wanted to learn, I thought he was something special because every time I would give him a note to play, he'd come back tomorrow, he'd be on it-that note. The next thing I know, he was really playing." Around this time, Smothers befriended Paul Butterfield and got the young harp player his first gig a short time before Paul and Elvin formed the Paul Butterfield Blues Band.
After Bishop hooked up with the Paul Butterfield Blues Band and the band's recordings began to take off, Elvin was constantly on the road. After Bishop was gone, Smothers almost completely gave up music, taking construction jobs to make money. Once his children grew up, he rejoined the music scene with the Legendary Blues Band in the 1980s and has been regularly gigging ever since. In 1993 he released his first full-length album,
Bossman!,
on the Dutch Black Magic label, with help from his student and friend, Elvin Bishop. Open heart surgery sidelined Smothers for a spell in 1995, but in 1996 he came all the way back with
Second Time Around
on the German Crosscut Label. Smothers was also invited to perform at a private party in Paris for Mick Jagger's 55th birthday party. He was joined on stage by Keith Richards and Ron Wood for a highly publicized blues jam, with coverage appearing everywhere from
Rolling Stone
to
Pollstar
to
Living Blues
,
Blues Access
and
Blues Revue
. He once again hooked up with his friend Elvin Bishop in January 2000 for three sold-out live shows in San Francisco resulting in his first domestic release,
That's My Partner!,
on Alligator Records. With his star rising even higher, he played on the main stage at the 2000 Chicago Blues Festival in front of a crowd of 150,000 people. Little Smokey Smothers is finally beginning to receive the recognition he's been due for over fifty years.
Discography
1993 Bossman! The Chicago Blues of Little Smokey Smothers (Black Magic)
1996 Second Time Around (Crosscut)
2000 That's My Partner! (Alligator) (w/Elvin Bishop)