Lovie Lee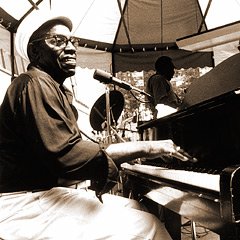 Biography
After decades of playing southern juke joints and South Side Chicago taverns, Lovie Lee's career took a quantum leap in 1979. Joining the Muddy Waters band and cutting his first recording session would have been a boost for the career of almost any bluesman. But, within the totally unspectacular framework of the long career of Lovie Lee, two such events in the same year were more like an atomic explosion.
For years, Lovie was simply the affable neighborhood piano player to the patrons of Porter's Lounge and other ghetto clubs. His good-natured stage presence, accented by his big grin and thick glasses, made him a solid draw at the Cinderella, Florence's, The 1125 Club and Porter's. Still, he had never recorded, never played in a big-name band, rarely toured outside Chicago, and had received only a few mentions in the blues publications, mostly because he was known as Carey Bell's stepfather. Then, he retired from his day job at an upholstery company in 1979, and all of a sudden things began happening. Alligator chose him for a four-song session as part of its Living Chicago Blues series, and a chance gig with Mojo Buford in North Dakota unexpectedly turned into a steady job with the Muddy Waters band, when Mojo suggested Lovie to fill the pianist's job just vacated by Pinetop Perkins.
Until these career-defining events, Lovie had been quietly plying his part-time blues trade, which he began as a teenager in Meridian, Mississippi. He was born Eddie Lee Watson on March 17, 1917, but an aunt dubbed him "Lovie" when he was a baby, and the name stuck. He began playing in church and in his parents' restaurant, inspired by a local piano player named Cap King. Growing up during the '30s, Lovie heard most of the popular blues artists of his day at the Star Theatre in Meridian—Bessie, Mamie and Clara Smith, Roosevelt Sykes and Lonnie Johnson. In fact, after playing in places like Jimmy's Spaghetti House, Moore's Restaurant and the Club 19, he won the job as intermission pianist at the Star Theatre. But mostly he and his little band, with Sherman "Blues" Johnson on drums and a variety of guitarists, played the little local bars, the private parties, rodeos and gypsy weddings that were part of Meridian's social life. Lovie never aspired to be more than a hometown entertainer, and never gave up his day job in a woodworking factory.
One day in the early 1950s, Lovie was playing a gig at the Blue Moon Drive-In ("you drive in and lucky if you drive out") when a teenager with a harmonica in his pocket wandered in and asked to jam. It was the young Carey Bell, who had run away from his home in Macon, MS, to become a musician. Lovie took the boy under his wing, and together they formed a new band, The Swinging Cats, with guitar, trumpet and sax to supplement the piano and harmonica. In 1957, Lovie brought the group to Chicago. There wasn't enough work to keep them in the city, but Lovie and Carey remained when the others returned to Meridian. They put together a new band with Honeyboy Edwards on guitar and started picking up local gigs.
As he had done in Mississippi, Lovie decided not to depend on music for his living. He held a series of jobs, at the Post Office, in a department store, and finally as an upholsterer. But he always kept his band, the Sensationals, together. They played taverns, private parties and Elks Club dances with guitarists like Little Nick, Arthur Gray, King Edward, Byther Smith and Lee Jackson. Carey had long since left, to tour with his own band, and with Eddie Taylor, Muddy Waters, Willie Dixon and others. But periodically he returned to sit in with his adopted "stepfather."
In 1979, Lovie sent for his birth certificate, and discovered the midwife had recorded his birth date as 1909. His "new" age allowed him to retire early ("I was eight years old when I was born!" he laughed).
Lovie played with Muddy until Muddy's death in 1983. After that, he returned to his South Side haunts, cutting tracks that he assembled into two self released albums. Some of the best were compiled on a CD on the Earwig label.
Lovie Lee died on May 13, 1997, a veteran bluesman who, after years of playing mostly for fun, found a few moments of fame.
Discography
1979 Living Chicago Blues, Vol. 3 (Alligator)
1994 Good Candy (Earwig)