Luther "Guitar Junior" Johnson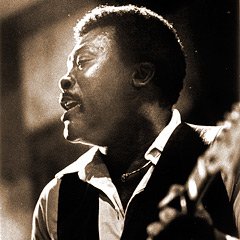 Biography
Chicago's West Side guitar style, alternating stinging single-note leads with powerful, distorted chords, was created in the late 1950s, mostly by Otis Rush and Magic Sam. Originally developed because their small bands couldn't afford both a lead and rhythm guitar, it grew into an important contribution to modern blues. Freddie King, Luther Allison, Jimmy Dawkins and Mighty Joe Young were the other "big name" West Side stylists. A less familiar name is Luther "Guitar Junior" Johnson, who, after serving a long sideman apprenticeship, has blossomed into a strong performer in his own right.
Ironically, Luther's leap into the worldwide blues spotlight was earned as a member of the premier South Side blues band, Muddy Waters' group. Luther played for seven years with Muddy, touring Europe, Japan and Australia as well as across the U.S.
Luther's story, like that of so many bluesmen, began in Mississippi. He grew up in Itta Bena, where he was born in 1939. His first musical experience was leading a church choir in nearby Greenwood, where he also used to see legends like Sonny Boy Williamson, Robert Nighthawk and Muddy Waters. Luther's mother bought him his first guitar, a Roy Rogers special, and a cousin taught him how to tune it.
He came to Chicago in 1955, confident as a singer but still struggling with his guitar. Drummer Ray Scott gave him his first gig, as a vocalist and dancer. Floyd Murphy, the great ex-Sun Records session guitarist, was playing in the group. "I would watch him, but I would never let him know I was trying to learn from him," Luther recollects. As his guitar chops improved, Luther got a job as vocalist/bassist with Tall Milton Sheldon's band. When Milton retired from music in 1962 to become a preacher, Luther switched to lead guitar and took over the group. "The people on Independence Boulevard named me Guitar Junior," he recalls. "I carried a big crowd. I'd play in their back yards, on the streets and in the park." Luther fell under the strong influence of the West Side giant Magic Sam when they played together in the mid-1960s. "I really dug the way Sam played," Luther says. "He liked the way I played too. I had to play Sam Cooke's song, "Somebody Have Mercy" every night for him, two or three times." Luther also gigged around the West Side with Sunnyland Slim, Bobby Rush, Little Addison, Willie Kent and Jimmy Dawkins before cutting his first 45, for the Big Beat label, in 1972.
Sitting in with Muddy's band the following year earned Luther his big break. He was offered a steady gig, and established himself as another of Muddy's standout guitarists. Not before clearing up a few cases of mistaken identity, though. Between being confused with Luther "Georgia Boy" Johnson (a previous guitarist for Muddy) and Lonnie Brooks (known in his younger days as "Guitar Junior"), it took Luther a couple years to clarify his public image.
Luther made his U.S. album recording debut as a leader on Alligator's Living Chicago Blues series in 1980. Before that, he had recorded only for European labels, and as a sideman.
When Muddy's old band broke up in 1980, it didn't take Luther long to put together his own group. Luther relocated to the Boston area in the early 1980s and has been leading his own band, based there, ever since. He's recorded albums for Telarc and Bullseye Blues and maintains a very active touring schedule. With his big voice, high-energy performances and easy good humor, Luther has developed a devoted following. But mostly it's his hard-edged guitar sound that draws the audiences. As he says, "I just naturally got that West Side style."
Discography
1976 Luther's Blues (Black & Blue, released in U.S. on Evidence)
1980 Living Chicago Blues, Vol. 4 (Alligator)
1984 Doin' The Sugar Too (Rooster, re-released on Bullseye Blues)
1991 I Want To Groove With You (Bullseye Blues)
1992 It's Good To Me (Bullseye Blues)
1994 Country Sugar Papa (Bullseye Blues)
1996 Slammin' On The West Side (Telarc)
1998 Got To Find A Way (Telarc)
1999 Live At The Rynborn (M.C.)
2001 Talkin' About Soul (Telarc)