Phillip Walker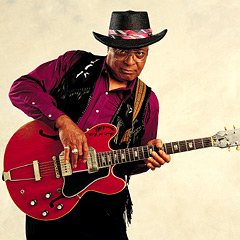 Biography
Phillip Walker is one of today's finest Texas/West Coast style blues guitarists and vocalists. His melodic, stinging guitar and dry, drawling voice represent the essence of the sound that grew up in East Texas in the late 1950s, influenced by T-Bone Walker, Gatemouth Brown and the driving rhythms of the big Texas swing bands. After his move from Texas to California, he brought the sophisticated, jazzy sounds of the West Coast into his playing.
Although Phillip was born in Welsh, Louisiana (near Lake Charles) in 1937, he spent his formative years in Port Arthur, Texas. Determined to learn to play guitar as a teenager, Phillip soaked up the sounds of such Texas and Gulf Coast blues stars as T-Bone, Gatemouth, Lonesome Sundown, Ervin Charles, Guitar Junior (aka Lonnie Brooks) and Long John Hunter. Walker's first big break came in 1954, when zydeco master Clifton Chenier invited him to join his band. After a two-year stint with Chenier, Walker moved to El Paso, where he hooked up with his old Port Arthur pal, Long John Hunter. They quickly became the two most talked-about artists in the region, playing rowdy, take-no-prisoners venues like the Black and Tan Bar in El Paso and the Lobby Bar in Juarez, Mexico. While Hunter remained in Juarez, Walker journeyed west to Los Angeles in 1959, after being invited by producer J.R. Fulbright to cut a single for California-based label, Elko Records.
After recording two singles for Elko, Walker began playing regular nightclub gigs throughout Los Angeles. He quickly earned a reputation as one of the West Coast's finest guitar players, and in1969, he even joined Little Richard's band for a brief period. He met producer Bruce Bromberg and Bromberg's songwriting partner, Dennis Walker (writers and producers of Robert Cray's hits), that same year and began an association that would carry on into the late 1980s. Together they worked on a string of singles that were released on Vault, Fantasy, Bromberg's Joliet Records and the new Playboy label. Walker toured Europe extensively, and went on to record albums for the Japanese P-Vine label and Rounder. Walker's next recording wasn't until 1988, when Hightone released
Blues
, an album that was the first to feature the Dennis Walker composition "Don't Be Afraid Of The Dark" (which later became the title track of a best-selling album for Robert Cray). Walker released an album in 1992 on the British JSP label before signing with Black Top Records in 1994 and cutting two successful albums, 1995's
Working Girl Blues
and 1997's
I Got A Sweet Tooth
. In 1999, he joined his old pals Long John Hunter and Lonnie Brooks for Alligator's award-winning
Lone Star Shootout
supersession.
Guitar Player
, describes Walker's music as "big Texas blues meets West Coast cool... Walker roughs up B.B. King shouts, T-Bone Walker jumps, Cajun stomps and Lowell Fulson swing with terse, cutting guitar."
Discography
1973 Bottom Of The Top (Hightone, originally issued on Playboy)
1977 Someday You'll Have These Blues (Hightone, originally issued on Joliet)
1980 Blues Show Live At The Pit Inn (Yupiteru)
1982 From LA to L.A. (Rounder) (with Lonesome Sundown)
1984 Tough As I Want To Be (Rounder)
1988 Blues (Hightone)
1994 Big Blues From Texas (JSP)
1995 Working Girl Blues (Black Top)
1998 I Got A Sweet Tooth (Black Top)
1999 Lone Star Shootout (Alligator) (with Lonnie Brooks & Long John Hunter)
2002 Live At Biscuits & Blues (M.C.)