Pinetop Perkins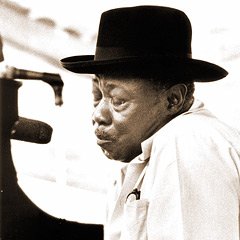 Biography
With a career that lasted into his 90s, Joe Willie "Pinetop" Perkins became a worldwide symbol of the Chicago/Delta blues tradition. He was renowned as perhaps the last master of Delta blues piano, a beloved figure who performed with unparalleled, youthful joy. Yet unlike his contemporaries Muddy Waters, Otis Spann and Howlin' Wolf, Pinetop received almost no recognition in the blues world until the 1970s. He was just another excellent musician known among his peers and the truly hardcore fans. He had toured with Earl Hooker in the '60s and recorded for Sun Records in the '50s, but was not often mentioned among the venerated greats. He had never recorded an album on his own, and probably had never played at a blues festival. How things have changed in the last 40 years of his life!
The huge turnaround in Pinetop's life happened when the late Muddy Waters called on Pine to fill the piano spot in his band that had been held for decades by the fantastic Otis Spann. Pinetop's style, more sparse and delicate than Spann's, helped create a new sound for Muddy. Pinetop brought to the group a beautiful blend of pre- World War II Deep South piano and postwar blues band styles.
Pinetop, who was born July 7, 1913, near Belzoni, Mississippi, took up piano as a teenager. Clarence "Pinetop" Smith's original 1928 recording of
Pinetop's Boogie Woogie
provided Joe Willie Perkins with both a nickname and a theme song. He was also inspired by the records of Leroy Carr, Little Brother Montgomery, Roosevelt Sykes, and Walter Davis, and by the live performances of many local roadhouse pianists who never recorded. He found regular work throughout the 1930s, playing piano in the Mississippi Delta. Guitar, however, was his first instrument, and his first gig with a blues band--Robert Nighthawk's--was as a guitarist. His ambitions as a guitarist ended in the '40s when he was stabbed in the left arm. Pinetop said the injury made it too hard for him to chord the guitar, but his piano playing was less affected.
When he joined Nighthawk's band, Pinetop left Mississippi for Helena, Arkansas, and started broadcasting on KFFA Radio's Bright Star Flour program. He was soon lured away by Sonny Boy Williamson for the rival King Biscuit Time show. Pinetop played on the King Biscuit Time for about five years, until 1948, at a monthly salary of $30, making most of his money at the band's nightly engagements in Arkansas and Mississippi.
In 1949 Nighthawk rehired Pinetop to work with him in Cairo, Illinois, and the next year Pinetop went into the recording studio for the first time, playing piano on a Nighthawk session in Chicago. Nighthawk, always a restless musician, moved on, but Pinetop played in Cairo, a Mississippi River town that boasted a bustling nightlife. For about two years Pinetop led a big band (with accordion and horns), playing "the old corny stuff, way-back stuff" for white audiences.
Then it was back to the blues, as Pinetop left Cairo for a trip south with Nighthawk's premier disciple, Earl Hooker. Pinetop, Hooker, and Ike Turner (who had learned a lot of piano by listening to Pinetop in Mississippi) played together for a while in Florida and worked their way back to Mississippi. Earl and Pinetop also stopped in Memphis to record for Sam Phillips' Sun label. Pinetop cut a fine version of
Pinetop's Boogie Woogie
, which was reissued by Arhoolie Records.
During the '50s Pinetop moved to East St. Louis, Illinois, where he worked with singer Johnny O'Neal's band and other local groups, eventually taking a job at a dry cleaners and relegating music to a part-time activity. Once more, Earl Hooker put Pinetop back on the blues trail. Pinetop worked with Earl in Chicago and on some jaunts through the Midwest, and in 1968 accompanied Earl on an Arhoolie LP. Sessions with Carey Bell, Willie Williams and other Chicago bluesmen followed. For a couple of years Pinetop also fronted a trio at a dance joint in Old Town.
Joining Muddy in 1969 was of course Pinetop's huge break. His years of touring and recording with Muddy brought Pinetop more recognition than ever before. He sang a few tunes on each show. He recorded on Muddy's "comeback" albums on Columbia/Blue Sky. His vocals were featured on Muddy's Woodstock Album. He cut an album for a French label in 1976, but his first U.S. album session as a leader was for Alligator's
Living Chicago Blues
series in 1978.
Pinetop left Muddy with a number of other bandmates to form the Legendary Blues Band, with whom he toured for a number of years. He then stepped out on his own, cutting his first full solo album in the U.S. in 1988. Since then, he became one of the most-recorded bluesmen of recent years. Pinetop headlined almost every major blues festival and club, pounding out his boogie woogies and tickling the ivories with his subtle, slow blues. He brought almost a century of blues experience, a sweet, melodic voice and a glowingly, irrepressibly warm personal presence to his music. In 2011, shortly before his death, he won a Grammy Award for Best Traditional Blues Album for Joined At The Hip, an album record jointly with his long-time friend, Willie "Big Eyes" Smith.
With worldwide fame, Pinetop was never one to promote himself. "I don't play no whole gob of piano," he modestly claimed, "I just play natural blues."
Joe Willie "Pinetop" Perkins died on March 22, 2011 in Austin, Texas.
DISCOGRAPHY
1977 Pinetop Is Just Top (Black & Blue, reissued on Evidence as "Boogie Woogie King")
1978 Living Chicago Blues, Vol. 2 (Alligator)
1988 After Hours (Blind Pig)
1992 On Top (Deluge)
1993 Portrait Of A Delta Bluesman (Omega)
1993 Pinetop's Boogie Woogie (Texas Music Group)
1995 Live Top (Deluge)
1995 With The Blue Ice Band (Earwig)
1995 Got My Mojo Working (Blues Legends)
1997 Born In The Delta (Telarc)
1998 Down In Mississippi (HMG)
1998 Legends (Telarc) (with Hubert Sumlin)
1999 Live at 85 (Shanachie)
2000 Back On Top (Telarc)
2000 Live At Antone's, Vol. 1 (Antone's)
2003 Heritage Of The Blues (Hightone)
2004 Ladies' Man (M.C.)
2007 Pinetop Perkins on the 88s (Vizztone)
2008 Pinetop Perkins and Friends (2008)
2010 Joined At The Hip (Telarc)