Scotty and the Rib Tips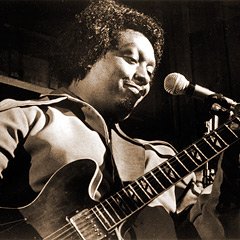 Biography
For decades, the name Scotty and the Rib Tips was an indelible part of Chicago's black music scene. Always gigging, always scuffling for recognition, playing in the shadows of the bigger names, but always tight and professional, whether in support of Chicago's top blues and soul acts, or at the Rib Tips' own shows at countless out-of-the-way lounges and taverns…a permanent South Side institution.
Chicago wouldn't have been the same without rib tips or Scotts. Kenneth "Buddy" Scott and his clan ran neck-and-neckbone with the Harrington folks (Carey Bell and sons, Eddy Clearwater and nephews) in the competition for the city's most prolific soulful musical family. Buddy was one of ten boys, most of whom ended up in the Scott Brothers Band, a longtime fixture on the Chicago soul music scene. The family network, which grew to include sons and nephews, became The Scott Brothers World, with various branches employed separately or simultaneously as the Tyrone Davis Band, the Rib Tips, or just the Scott Brothers. The family loyalty always came first—even in Tyrone's band, the Scotts wore their distinctive black silk "Scott Brothers World" jackets, with Tyrone Davis' name relegated to the back of the garments.
Buddy Scott made his album recording debut on Alligator's Living Chicago Blues, Vol. ___ in 1980. That particular band of Rib Tips featured Buddy with brother Walter and sons Kenneth Jr. and Jerome. Buddy's sons represent the third generation of blues-playing Scotts. Their grandmother, Ida, was a guitarist back in the '50s, when little Buddy used to peek through the doors of the Picadilly at 36th and Indiana to see her play with Sonny Boy Williamson and Little Walter.
The Scott clan moved to Chicago in the early 1940s from Jackson, Mississippi, where Buddy was born in 1935. Buddy was a boxer before he was a bluesman, and learned guitar from his mother and from tutor Reggie Boyd. His first gig was as a singer with a vocal group called The Masqueraders (appropriate, as this name was only another disguise for the Scott Brothers). In the early '60s, he worked with both The Masqueraders and with drummer Ted Porter (later owner of Porter's Lounge) in a blues band at Turner's Blue Lounge. When Scotty joined another group, The Upsetters, he picked up some T-Bone Walker licks from leader T. Jones. The band eventually evolved into Scotty and The Upsetters. Then fate stepped in. One of the sidemen was a Mexican named Joey. At first, he refused to eat soul food with the rest of the band. But when they finally turned Joey on to rib tips, he just couldn't get enough. To show his appreciation, Joey began calling his fellow musicians The Rib Tips. Their fans took the joke seriously, and the name stuck like barbecue sauce.
Scotty and The Rib Tips worked Turner's, Lee's Lounge, Curley's, Barney's,The Club Arden, Pepper's and dozens of other South and West Side clubs, often with harpist Little Mack Simmons as featured guest. Following some early '60s records with his Masqueraders, Scotty recorded—and paid for the recording costs of—45s on Biscayne, PM and Capri. He played guitar or bass on sessions with Mack Simmons, Lee Shot Williams, McKinley Mitchell, Arlean Brown and of course The Scott Brothers. He taught his sons to play, hired them as the new Rib Tips, and, as they matured as players sometimes put his guitar down to work as a standup vocalist at show lounges like Bootsy's and the Club 77. Scotty dabbled in other areas of the music business, too, operating a chain of record shops (Scott's, of course) and a South Side rehearsal studio, and writing arrangements for other bands.
After his recordings for Alligator, Buddy Scott went on to cut for Verve Records, but never received much recognition from the international blues community. He died of cancer on Feb. 5,1994.
Discography
1980 Living Chicago Blues, Vol.3 (Alligator)
1993 Bad Avenue (Verve)