Shemekia Copeland Debuts Timely New Song, UNCIVIL WAR
Shemekia Copeland is a powerhouse, a superstar…she can do no wrong."
--Rolling Stone
Shemekia Copeland is one of the great blues voices of our time. No one comes close to the sheer firepower that Copeland conjures at will.
--Chicago Tribune

Authoritative...confrontational...punchy defiance and potent conviction. It's hard to imagine anyone staking a more convincing claim to the territory she's staked out.
--NPR Music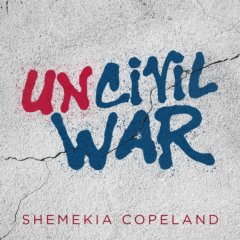 Award-winning blues and Americana vocalist Shemekia Copeland releases her timely new song, Uncivil War, on Friday, June 19. It is a courageous statement pleading for unity in a time of disunion, and is unlike anything Copeland has previously recorded. Uncivil War takes no sides and speaks to every person's desire to be safe and free. Featuring iconic mandolin wizard Sam Bush, dobro master Jerry Douglas and background vocals from popular alternative band The Orphan Brigade, the song is simultaneously comforting and challenging, as Copeland sings, "Same old wounds we've opened before / Nobody wins an uncivil war." Shemekia delivers the song with passion and insight about the chaos and uncertainty in the world while still finding light in the darkness and hope for the future.

On Monday, June 15 at 9:00am Eastern, SiriusXM's B.B. King's Bluesville exclusively premiered the song to its worldwide audience.
According to Copeland, "It's not just a song. I'm trying to put the 'united' back in the United States. Like many people, I miss the days when we treated each other better. For me, this country's all about people with differences coming together to be part of something we all love. That's what really makes America beautiful."
Copeland's instantly recognizable voice is capable of being sultry, assertive and roaring. She is a three-time Grammy nominee with a wide-open vision of contemporary Americana roots, blues and soul music. Uncivil War showcases the next step in the evolution of a passionate artist with an up-to-the-minute musical and lyrical approach. The song, written by John Hahn, will be featured on Copeland's upcoming Alligator album.

Copeland's previous release, America's Child, cemented her place her as one of blues' and Americana's most commanding voices. America's Child won the Blues Music Award for Album Of The Year, and was named the #1 blues album of 2018 by MOJO magazine. Copeland recently received the 2020 Blues Music Award for Contemporary Blues Female Artist Of The Year, during a special online ceremony.
When she first burst on the scene at age 18 in 1998 with her groundbreaking Alligator Records debut CD, Turn The Heat Up, Copeland quickly became a blues and R&B force to be reckoned with. News outlets from The New York Times to CNN praised Copeland's talent, larger-than-life personality, and true star power. With each of her eight releases, Copeland's music has continued to grow, reaching a larger and larger audience
Shemekia Copeland has performed thousands of gigs at clubs, festivals and concert halls all over the world and has appeared on national television, NPR, and in newspapers, films and magazines. She's sung with Eric Clapton, Bonnie Raitt, Keith Richards, Carlos Santana, Dr. John, James Cotton and many others. She opened for The Rolling Stones and entertained U.S. troops in Iraq and Kuwait. Jeff Beck calls her "amazing." Santana says, "She's incandescent…a diamond." In 2012, she performed with B.B. King, Mick Jagger, Buddy Guy, Trombone Shorty, Gary Clark, Jr. and others at the White House for President and Mrs. Obama. Currently, Copeland can be heard five days a week hosting her own blues radio show on SiriusXM's Bluesville. In addition, she was recently the subject of a six-minute feature on the PBS News Hour, who proclaimed her "a new generation Queen Of The Blues."
The Philadelphia Inquirer declared, "Shemekia Copeland is an antidote to artifice. She is a commanding presence, a powerhouse vocalist delivering the truth." No Depression added, "When Shemekia Copeland opens her mouth, everybody pays attention. She pierces your soul."