Christone "Kingfish" Ingram Appears on PBS NEWSHOUR On Wednesday, Nov. 11
Ingram is a strong, rockin' blues musician – a traditionalist, basically, who can set fires with his guitar... ferocious, flabbergasting...meaty, serious, canonical.
--New York Times Magazine
A rising blues prodigy...a torchbearer.
–NPR Music
Ingram is a slashing guitarist and handsome, forceful singer…subtle and surprising…skillfully composed...remarkable maturity.
--MOJO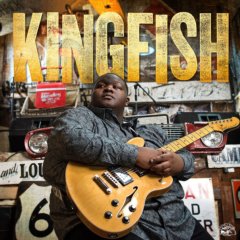 On Wednesday, November 11, five-time Blues Music Award winner and 2019 Grammy Award nominee Christone "Kingfish" Ingram was featured on nationwide television on PBS NewsHour. The profile includes an interview with Ingram from the Delta Blues Museum in his hometown of Clarksdale, Mississippi, and shows his blistering guitar skills in action. PBS NewsHour has over 2.7 million daily viewers.
PBS NewsHour will air across the country at various times in different markets. Local PBS stations can be found here. Please note, that depending on current events, scheduling may change. Once broadcast, the piece will be available online.
Since the release of his Alligator debut Kingfish, the 21-year-old musician has earned mountains of praise from press, radio and fans alike. In addition to his Grammy nomination, he won five 2020 Blues Music Awards, including Album Of The Year, Best Guitarist and Best Emerging Artist. He also won four Living Blues Awards and two Blues Blast Awards. When not headlining his own tours, Ingram has performed with Buddy Guy, Vampire Weekend and Jason Isbell.
Kingfish debuted at #1 on the Billboard Blues and Heatseekers charts. The song Fresh Out was the most played track in 2019 on Sirius/XM's Bluesville channel. Songs from the album continue to receive regular airplay on radio stations around the world. Sir Elton John interviewed Kingfish on his Apple Beats podcast. Kingfish also appeared (honoring Buddy Guy) on PBS Television's Austin City Limits. NPR Music named him a 2020 Artist To Watch, and included Kingfish as one of the Best Debut Albums Of 2019. Tastemaker UK music magazine MOJO named Kingfish the #1 Blues Album of 2019. He recently performed a Tiny Desk (Home) Concert for NPR Music.