VISIONARY BLUESMAN SELWYN BIRCHWOOD PREMIERES NEW VIDEO OF SEARCHING FOR MY TRIBE
Song a highlight of Birchwood's Celebrated 2021 Album,
Living In A Burning House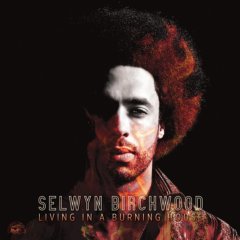 "This singer-songwriter continues to leap forward…intent on both working in the blues idiom and expanding on it. His vocals are as tough as these funky, surprising sounds demand. The 13 original songs are constructed for drama….stories and sounds combine to haunt beyond their specific references, as the best blues songs will."
—The Wall Street Journal

"Selwyn Birchwood reaches back in the blues tradition to launch something out of this world."
—No Depression


Groundbreaking young blues visionary Selwyn Birchwood today announced the premiere of his attention-grabbing new video for his original song, Searching For My Tribe. The passionate, thought-provoking track appears on Birchwood's recently released third Alligator album, Living In A Burning House. Living Blues declared, "With Living in a Burning House, the guitarist may have made his most fully realized artistic statement to date."

According to Birchwood, Searching For My Tribe is about his personal journey for self-actualization. "I had always been a loner from a very young age. At 19 years old, I discovered an entire world of blues music that felt like 'home'. I knew then where I wanted to go and what I wanted to do. Just when I thought I had found my place in the sun, it appears as though all of the people and sounds that brought me in have been replaced with other trends. This music video allows me to tell that story, visually, from a different perspective as it showcases the state of the 'art' in the environment we see today."

Since the 2014 release of his Alligator Records debut, Don't Call No Ambulance, Birchwood's meteoric rise from playing small Florida clubs to headlining international festival stages is nothing short of phenomenal. The album received the Blues Music Award and Living Blues Critics' Award for Best Debut Album Of 2014, and he won the 2015 Blues Blast Rising Star Award. Rave reviews ran in publications from Rolling Stone to The Wall Street Journal, from The Chicago Tribune to The San Francisco Chronicle.He followed in 2016 with Pick Your Poison. DownBeat said, "There's a deep-seated power about Birchwood's singing and six string/lap steel guitar work...and there's an unmistakable emotion and honesty linking him to forebearers like Muddy Waters."