Ann Rabson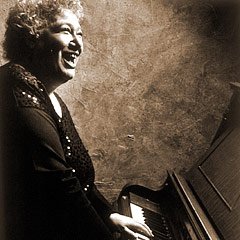 Quotes
"Rabson knows her way around the blues 'n' boogie keyboard, playing into her passages with the glee of a superior entertainer."
-- LIVING BLUES
"Rabson plays bluesy, honky tonk piano with staggering authority."
-- DOWNBEAT
"Delightful piano controlled and melodic with the classic fusion of abandon and elegance ... Her voice wraps itself around the material with the snugness of a homemade scarf."
-- CHICAGO READER
Biography
From the first time she heard a Big Bill Broonzy song when she was four years old, pianist/ guitarist/songwriter/vocalist and founding member of Saffire--The Uppity Blues Women, Ann Rabson was hooked on the blues. She received a guitar from her father when she was 17 and found a role model in Memphis Minnie, one of the few early female blues guitarists. Ann quickly became an accomplished guitar player and first sang professionally while still in high school. And though she's considered one of the finest barrelhouse blues pianists of her generation, she didn't start playing piano until she was 35. "I always liked the piano," she says. "Besides, at that time I was in a band with too many guitar players." In recognition of her talent, Rabson received a 1995 Blues Music Award nomination in the category "Traditional Blues--Female Artist Of The Year."
Along with her guitar student, Gaye Adegbalola, Rabson founded Saffire--The Uppity Blues Women in 1984. Since then -- with the addition of multi-instrumentalist Andra Faye McIntosh -- the group has gone on to become one of the top acoustic blues acts performing today. "Even people who don't like the blues can't resist them," said
The Washington Post
. Their five Alligator albums are among the best-selling in the label's catalog. And now Rabson, still very much a part of Saffire--The Uppity Blues Women, is treating her fans to her first-ever solo album,
Music Makin' Mama
(AL 4848).
Music Makin' Mama
showcases Rabson's superb instrumental work, solidifying her status as one of the top blues piano players today. Besides her furious keypounding, Ann plays traditional blues fingerpicking guitar on four songs and sings with subtlety and soul. She also welcomes a few very talented friends, including Alligator labelmates Cephas & Wiggins and Steady Rollin' Bob Margolin, ex-Roomful Of Blues sax king Greg Piccolo, bassist Jeff Sarli (Keith Richards), drummer Big Joe Maher (Blacktop recording artist) and famed klezmer violinist (and Ann's sister) Mimi Rabson (Klezmer Conservatory Band and RESQ).
The album was produced by Rabson along with Alligator president Bruce Iglauer and features 16 songs from the likes of Bessie Smith, Roosevelt Sykes, Cow Cow Davenport, Ray Charles and others, and also includes four Ann originals. Stylistically, the music moves from classic blues (
He's Got Me Goin'
) to infectious New Orleans R&B (
Baby, Every Once In A While
) to contemporary acoustic blues (
No Later On
). From the saxophone and guitar driven
Haven't Got A Clue
to the Memphis soul of
What I Don't See Can't Hurt Me
to the boogie-woogie title track,
Music Makin' Mama
is Ann Rabson at her very best.
Ann Rabson was born in New York in 1945 and was raised in Ohio. As a child she listened to all sorts of music, but it was blues that reached her. "Blues speaks to me directly. It wasn't a choice, I was drawn to it naturally, sort of like a sheepdog with sheep," she says laughing. By age 18 she was playing professionally around the Midwest. In 1971, Ann moved with her daughter to Fredericksburg, Virginia, where she performed full-time and gave music lessons on the side. In 1978, Ann took a day job as a computer analyst to help put her daughter through school while still performing at night. During this time, Ann and her guitar student, Gaye Adegbalola, decided to perform together and the seeds of Saffire--The Uppity Blues Women were sown.
In the early 1980s, Ann began concentrating on her piano playing and within a short period of time had become an innovative and original player. Far from finding it difficult to learn a new instrument as an adult, Rabson says it was easier. "When you're 35 you have a better attitude. You take more risks."
The day her daughter completed college, Ann risked it all and began playing music full-time again. Along with Adegbalola, Ann formed Saffire--The Uppity Blues Women. They pooled their money and recorded a demo tape, which they then forwarded to Alligator Records. Their 1990 self-titled debut became one of the label's best selling releases. With the addition of Andra Faye McIntosh in 1992, the trio continued to win over audiences around the world with their wholly original and captivating albums and performances.
While still regularly touring with Saffire, Ann also plays many solo gigs and performs as a guest with many artists. She'll be featuring material from
Music Makin' Mama
on an upcoming extended solo tour during some downtime from Saffire. "I miss my husband and my daughter and my dogs and cats," says Rabson, "but I really love being on the road. I love travelling and meeting people." Her desire is to bring even more people to the blues. "If you aren't into the blues," she says, "it's because you haven't been exposed to them."
With
Music Makin' Mama
, Ann Rabson delivers a fiery collection of boogie-woogie, barrelhouse romps, slow burners and up-to-the-minute blues. Her soulful, heartfelt vocals are a perfect match for her keypounding prowess, and each song is filled with the urgency and deep feeling that defines the blues. "Rabson's rollicking boogie woogie keyboards and tasty acoustic guitar fingerpicking provided plenty of sparks," declared
The Boston Herald
in a recent gig review. "She's simply irresistible." She's simply a music makin' mama.
Ann Rabson continued to make joyous music, both with Saffire and with friends like Bob Margolin, until her death in January, 2013