Eddie Shaw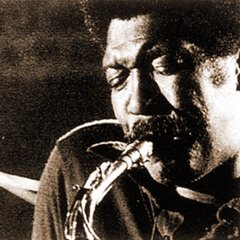 Biography
Eddie Shaw has done just about everything in the blues business. He's been a sideman, singer, bandleader, songwriter, arranger, producer and tavern owner. In most of those roles, he has worked on behalf of other artists. The whole West Side blues scene benefited from Eddie's efforts, which included acting as bandleader and manager for the late Howlin' Wolf from 1972 to 1975. After working for years behind the scenes, Eddie stepped out on his own as a band leader, proving himself to be one of the blues world's premier horn players and a fine vocalist to boot. Before Wolf died in 1976, he urged Eddie to carry on the blues with The Wolf Gang. Eddie not only kept the core of the band together (later adding his talented son Vaan on guitar), but also forged a new identity for Eddie Shaw and The Wolf Gang.
Eddie's career with Wolf began in 1958, but his varied activities brought him in contact with hundreds of other bluesmen, both in Chicago and in the South. Eddie was born March 20, 1937, in Benoit, Mississippi, and grew up in nearby Greenville, where his adolescent friends included a number of musicians who would one day become fellow Chicago bluesmen: Little Milton Campbell, Left Hand Frank Craig, Johnny "Big Moose" Walker and L.V. Banks, among others. Eddie and his close companion Oliver Sain were just two of the many blues and jazz horn players to come from Coleman High School. They joined other formally trained musicians in Greenville's sophisticated, urban jump-blues bands, which featured four- and five-man horn sections. Eddie and Oliver made the rounds of the local nightclubs, schools, and dances, and often traveled through the Delta to play with bands such as Ike Turner's and Guitar Slim's. Eddie, who played trombone and clarinet before switching to saxophone, also put in some time with more traditional local bluesmen like Sain's stepfather, Willie Love and guitarist Charles Booker. In 1957, Eddie sat in with the Muddy Waters band in Itta Bena, Mississippi. Muddy hired him on the spot, and Eddie arrived in Chicago as a member of the top band in town.
The Chicago bands of Muddy and Wolf were built around amplified country blues, and Eddie found that he had to play differently in Chicago than he had in Mississippi. He was usually the only horn player in the band and no longer had section arrangements or short, set parts to play. But Eddie adapted to the new demands as a soloist. A few months with Muddy, a few months with Wolf, back to Greenville for a short stay, and then Eddie settled in Chicago for good. He rejoined Wolf for about two years, moved on to the Otis Rush band, and during the '60s worked most often with Magic Sam on the West Side. In between, there were plenty of weekend gigs with any band that needed a sax man for a night or two--"in and out of bands, up and down the highway," says Eddie.
Eddie sang and fronted his own band from time to time, using guitar players such as Magic Sam, Luther "Guitar Jr." Johnson and Jesse Robinson. He played on recording sessions with Wolf, Sam, Freddie King, Jimmy Dawkins and others, and occasionally took his band into the studio to record dubs for promotional use on jukeboxes and on Big Bill Hill's local radio and TV programs. One such recording, an instrumental called "Blues For The West Side," became a minor Chicago hit when it was issued as a single by Colt Records. In addition, Eddie wrote songs for Wolf, Willie Dixon, Magic Sam, and Andrew "Blueblood" McMahon, and contributed arrangements to sessions by Wolf, Muddy and others. In the midst of all this, Eddie was usually involved in some sort of independent business venture. An air conditioning and refrigeration service, a laundromat, a barbecue joint, a tavern on West Madison Street, which was famed for its all-star Monday jam sessions. For a number of years, Eddie operated the biggest blues club on the West Side, Eddie's Place (The New 1815 Club), which featured such top-notch blues acts as Wolf, Otis Rush, Jimmy Reed, Luther Allison, James Cotton, Mighty Joe Young and Little Johnny Taylor.
Besides constantly touring for over two decades, Eddie has continued to record prolifically. His debut album, Have Blues, Will Travel, was released in 1977 on the Simmons label and later reissued by Rooster Blues. He cut four sides in 1978 for Alligator's
Living Chicago Blues
series with the famed Hubert Sumlin on guitar. Since then, he's cut a second album for Rooster Blues, one for the French Isabel label (issued in the USA by Evidence), four for the Austrian Wolf label and one for Chicago's own Delmark Records.
Eddie Shaw has been bringing his fat-toned, blues-drenched saxophone to blues fans for fifty years, thirty of them as a band leader and vocalist. He's won fans all over the world, and continues to perform constantly, carrying on in the Windy City spirit of his mentor Howlin' Wolf and his friend Magic Sam, but above all as his own man, Chicago's #1 blues horn player.
Eddie Shaw Discography
1978 Living Chicago Blues, Vol. 1 (Alligator)
1982 Movin' And Groovin' Man (Evidence)
1986 King Of The Road (Rooster Blues)
1992 In The Land Of The Crossroads (Rooster Blues)
1994 Trail Of Tears (Wolf)
1995 Home Alone (Wolf)
1996 The Blues Is Nothing But Good News! (Wolf)
1997 Can't Stop Now (Delmark)
1999 Too Many Highways (Wolf)