Michael Coleman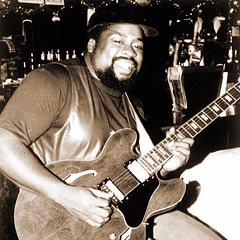 Biography
Michael Coleman emerged in his early 20s as one of the finest of Chicago's contemporary bluesmen. The West Sider, born in 1956, comes from a musical family—his dad played drums behind Junior Parker—and little Mike was playing guitar at age eight. He teamed up with vocalist Johnny Christian just three years later. Michael joined James Cotton's band for seven years, beginning in 1979, and played on both of Cotton's Alligator albums as well as on the Grammy-nominated
Harp Attack!
with Cotton, Junior Wells, Carey Bell and Billy Branch. He also backed Syl Johnson on Syl's 1982 hit, "Ms. Fine Brown Frame," and produced the original version of "Woman Loves A Woman" for vocalist Jerry Tyrone.
Michael made his debut as a leader in the studio on Alligator's
The New Bluebloods
collection with his own version of "Woman Loves A Woman." He went on to become a major draw in the North Side Chicago clubs with his dazzling guitar work, as well as touring Europe a number of times. He's recorded albums for two European labels and made his U.S. full album debut on Delmark a few years ago.
Discography
1987 The New Bluebloods (Alligator)
1990 Back Breaking Blues (Wolf)
1995 Shake Your Booty! (Wolf)
2000 Do You Thing! (Delmark)
2002 Chicago Blues Festival 1991 (Black & Blue)