Noble "Thin Man" Watts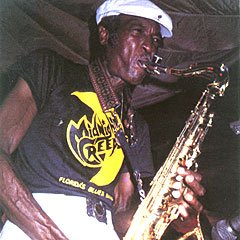 Biography
Noble "Thin Man" Watts was one of the hottest tenor saxman on the 1950s R&B scene. This was the era of honking tenor sax, when sax players, not guitarists, led the transformation of R&B into rock 'n' roll. Saxmen like Big Jay McNeely, Joe Houston, Plas Johnson and Noble Watts were early rock superstars. Watts was one of the greatest exponents of that honking tenor style.
Born in DeLand, Florida in 1926, Noble Watts started out playing piano, then progressed to the violin and trumpet before discovering the tenor sax in his teens. In 1942, he enrolled at Florida A&M University, where his band mates in the school marching band included jazz greats Julian "Cannonball" Adderly and his brother Nat.
The Griffin Brothers, one of Dot Records' most popular touring R&B acts, hired Watts right after he finished college, and he toured with them for a time. In 1952, he joined famed baritone saxophonist Paul "Hucklebuck" Williams as a member of the house band for the groundbreaking TV show Showtime At The Apollo. Later on, he had a stint playing with Lionel Hampton's big band. He also played on late '50s tour packages behind the likes of Chuck Berry, Jerry Lee Lewis, Buddy Holly and the Everly Brothers.
Settling in New York, Watts broke out as a solo recording artist on the Baton label. He recorded the R&B instrumentals "Easy Going", "Blast Off", "Shakin'" and "Flap Jack." He topped the charts in the late '50s with the classic instrumentals, "Hard Times (The Slop)" (covered a few years later by Duane Eddy) and "Jookin'."
Things slowed down for Watts in the '60s and '70s, and he moved back to his native DeLand, Florida in 1983. King Snake Records founder Bob Greenlee "rediscovered" him at a private party, and Watts released his comeback album, Return Of The Thin Man (featuring a guest appearance by Taj Mahal), for King Snake in 1987. The album was re-released on Alligator in 1990.
He followed up with King Of The Boogie Sax in 1993 for Ichiban Records' imprint Wild Dog. Watts continued to do some session work and live performances up until around 2000. He passed away August 24, 2004.
DISCOGRAPHY
1987 Return Of The Thin Man (Alligator)
1990 Noble & Nat (King Snake)
1993 King Of The Boogie Sax (Wild Dog)