Professor's Blues Review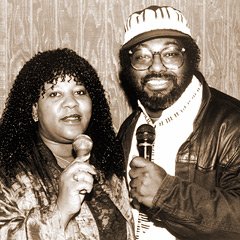 Biography
The late keyboard wizard "Professor" Eddie Lusk and his vocalist partner Gloria Hardiman communicated a joyous, gospel-influenced passion within their blues. The band they shared was among the tightest in the city.
The Professor, born in 1948, was a minister's son and began playing piano in church before becoming a regular in the Chicago blues clubs. Gloria sang with gospel greats Andrae Crouch and James Cleveland before fronting the blues combo called The Blueprints for an album on Razor Records. She also contributed a memorable guest appearance to Roy Buchanan's first Alligator LP, When A Guitar Plays The Blues. The Professor cut sessions with Jimmy Johnson, Phil Guy, Koko Taylor, Sunnyland Slim, and Syl Johnson, and was heavily involved in the local gospel scene.
Professor Eddie Lusk died tragically in 1992. Gloria Hardiman has retired from the blues, though she still sings gospel. Just before his death, Professor cut an album for Delmark with vocalist Karen Carroll. His session for Alligator's The New Bluebloods remains the only document of Professor and Gloria. Their version of the "Meet Me With Your Black Drawers On" has become a "hit" in the Carolina beach music scene.
Discography
1987 The New Bluebloods (Alligator)
1993 Professor Strut (Delmark) (with Karen Carroll)