Robert Cray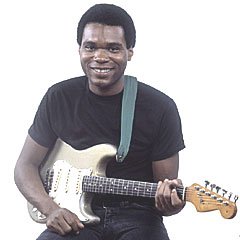 Biography
In the mid-1980s, Robert Cray stepped out as the most acclaimed young bluesman in the world. Since then, he's been one of the few blues artists to find a regular berth on the national radio airwaves, and he's played in settings where virtually no other younger bluesman has been heard. But back in the '80s, it seemed to many that Robert had emerged on the national scene from almost nowhere, but in fact he had spent many years paying dues, creating his own personal sound and style and spending years driving up and down America's highways and playing in small bars.
Robert's sound blends Memphis soul-infused vocals (his biggest vocal influence is probably the late O.V. Wright) with a clean, melodic Fender guitar sound. Although he's a brilliant guitarist, he has tended to shy away from the dramatic guitar solo in favor of melding the vocals, groove, band and guitar into a song-centered performance. He's a master of understatement, and he brings depth and meaning to every vocal.
Although Robert was born in Columbus, Georgia, he moved to the Pacific Northwest as a boy. Although his parents listened to gospel, jazz, soul and blues, it was the arrival of the Beatles in Seattle when Robert was in fifth grade that made him take up guitar. He played locally until 1974, when the first version of the Robert Cray Band was formed. With both Robert and harpist Curtis Salgado as vocalists/front men, they toured constantly in the Northwest and into California. Already, the band was creating original material and performing soul tunes along with straight ahead blues. They attracted the attention of Albert Collins, who was living in Los Angeles and needed a band for his regular Northwest tours. Collins chose the Cray band and Robert took guidance and inspiration from The Master of The Telecaster, who became his lifelong friend. One of their first national exposure gigs was backing Albert at the 1977 San Francisco Blues Festival.
Veteran producer/songwriter Bruce Bromberg and his partner Dennis Walker were so impressed that they took the band into the studio for its 1980 debut album on Tomato. But the label failed to promote it. In frustration, Bromberg formed the Hightone label primarily to push Robert's career. The two Cray albums on Hightone received national radio and press attention. They introduced a host of original songs and the smoothly soulful Cray style to a new fan base.
The band's first national tour found them sharing a stage with John Lee Hooker and Willie Dixon, who became close friends of Robert's. Muddy Waters took the Cray band under his wing as an opening act, calling Robert his "adopted son."
In 1985, Robert went into the studio with his mentor Albert Collins and The Texas Twister, Johnny Copeland. In four days, they recorded the classic Showdown! album. It scored a Grammy award as Best Blues Recording of the Year.
Cray signed with Mercury and released his best-selling album, Strong Persuader, which included a major radio hit "Smoking Gun." The album sold platinum, and Robert Cray, the shy young bluesman, made the cover of Rolling Stone. Robert went to England to gig with Eric Clapton, who became a huge Cray supporter. They later co-wrote a song for Clapton's Unplugged CD. Keith Richard brought Cray in to play with Chuck Berry in the film Hail! Hail! Rock 'n' Roll. And Robert's old friend John Lee Hooker called on him to play on three of his comeback albums, including the giant hit The Healer.
Since his emergence on the national and international scene in the mid-1980s, Robert Cray has remained a major blues and pop music draw, touring worldwide and winning the love and respect of fans and critics alike.
Discography
1980 Who's Been Talkin' (Tomato, reissued on Mercury)
1983 Bad Influence (Hightone)
1985 False Accusations (Hightone)
1985 Showdown! (Alligator)
1986 Strong Persuader (Mercury)
1988 Don't Be Afraid Of The Dark (Mercury)
1990 Midnight Stroll (Mercury)
1992 I Was Warned (Mercury)
1993 Shame + A Sin (Mercury)
1995 Some Rainy Morning (Mercury)
1997 Sweet Potato Pie (Mercury)
1999 Take Your Shoes Off (Rykodisc)
2001 Shoulda Been Home (Rykodisc)
2003 Time Will Tell (Sanctuary)