Roomful of Blues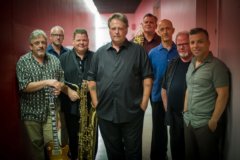 Upcoming Tour Dates
| | | |
| --- | --- | --- |
| Dec 27, 2019 | Infinity Music Hall | Hartford, CT |
| Dec 28, 2019 | Towne Crier Cafe | Beacon, NY |
| Dec 31, 2019 | Bull Run Restaurant | Shirley, MA |
View All Tour Dates
Quotes
"Swingin' jump blues and R&B...high-voltage yet classy" -
USA Today
"Brawny shuffles, swinging horns, searing guitar, passionate vocals and balls-to-the-wall enthusiasm"
–Living Blues
Frisky…bursting with scorchers…easy-swinging crackling riffs…crisp, taut horns that keep the joint jumping and can turn a dull evening at home into a heel-clicking night of fun. -
People
Old-school R&B using jump rhythms to make its point…mixes pop-savvy tunes with growling instrumental romps and dangerous swagger bringing a blast of raunchy stomp. Roomful of Blues remains one of the most versatile, hard-swinging blues bands around. Fantastic. -
Billboard
Roomful Of Blues plays an inspired, lively and heated brand of rippling, up-tempo, horn-dominated R&B. -
Rolling Stone
Roomful of Blues unquestionably knows its stuff when it comes to blues.
-
New York Post
Swaggering, horn-drenched blues. Roomful of Blues swings as hard as ever. Immaculate horn section roars with big band brass that can really blast.
-
Chicago Tribune
Roomful of Blues has forged its own distinctive blend of swing, jump and blues…it's the sort of magic that gets feet tapping and fingers snapping.
-
Chicago Sun-Times

Hard driving, energetic and gritty.
-
Boston Globe

Biography
For nearly half a century, Roomful of Blues has been delivering its signature blend of swing, rock 'n' roll, jump, blues and R&B to euphoric audiences all over the world.
Blues Revue
says, "Roomful of Blues is a sheer joy...contagious, finger-popping, head-bopping grooves...the horns blast loud and proud...explosive and electrifying." The band has earned five Grammy Award nominations and a slew of other accolades, including seven Blues Music Awards. Twice, the prestigious
DownBeat
International Critics Poll has selected them as Best Blues Band. With their masterful combination of jumping, horn-heavy blues and R&B, it's no wonder why the great Count Basie called them "the hottest blues band I've ever heard."
Billboard
simply says, "Roomful is so tight and so right."
To commemorate and celebrate their 45th anniversary, the band hosted a three-day party in March of 2013 at one of their favorite haunts, The Ocean Mist, in Matunuck, Rhode Island. The band blew the doors off the packed club, playing to roaring ovations each night. Happily, the proceedings were recorded and the resulting album,
45 Live
, is among Roomful of Blues' crowning achievements. The album is a lightning-in-a-bottle blowout, showcasing the larger-than-life vocal and instrumental power of the band.
45 Live
, produced by bandleader/guitarist Chris Vachon, features fourteen songs (over an hour of music) spanning the entirety of the band's history. The tracks were carefully chosen by Vachon, who included some of the group's best known originals, like
Dressed Up To Get Messed Up, Turn It On, Turn It Up,
and
That's Right!
, as well as tunes the band had previously recorded or performed with blues giants Joe Turner (
Crawdad Hole
), Eddie "Cleanhead" Vinson (
Somebody's Got To Go
) and Earl King (
It All Went Down The Drain
).
45 Live
is a flawlessly blended mix of rocking guitar, punching horns, room-filling vocals, serious musicianship and unbridled creativity. The results are a non-stop, hip-shaking party. It's clear why
The New Yorker
described a Roomful concert as "thunderous performances that get feet stomping and hands clapping."
Roomful of Blues, according to
DownBeat
magazine, "are in a class by themselves." The band has been led since 1998 by Vachon, who, according to
Guitar Player
, "burns with explosive solos and a delightfully greasy sense of rhythm." Roomful of Blues has always maintained its signature sound through great musicianship and a stellar horn section—featuring tenor and alto saxophonist (and clarinetist on
45 Live
's
Jambalaya
) Rich Lataille, who first joined the band in 1970. Lataille's masterful playing can evoke either the fat-toned, honking sax of the glory days of early rock or the cool elegance of big band swing jazz.
While Roomful of Blues has always been one of the tightest, most joyful blues ensembles in the world, they have never sounded fresher or stronger than with the current line-up. Along with Vachon and Lataille, the band includes vocalist Phil Pemberton, baritone and tenor saxophonist Alek Razdan, trumpeter Carl "Geerz" Gerhard, bassist John Turner, drummer Chris Anzalone and keyboardist Rusty Scott.
Roomful of Blues came together in Westerly, Rhode Island in the late 1960s when guitarist Duke Robillard and keyboardist Al Copley began exploring the swinging, jumping blues, R&B and jazz of the 1940s and 1950s. They added a horn section (including Rich Lataille) in 1970. The band's ability to ignite a sedate crowd into a dancing frenzy solidified their reputation as the best "little big band" in New England and expanded their following into New York and Washington, D.C. In 1974, they performed with Count Basie, and a few years later legendary songwriter Doc Pomus helped them land their first record deal. In 1977, Roomful of Blues' self-titled debut album on Island Records (reissued on Hyena Records) brought them to the attention of fans and critics from coast to coast.
Over the years there have been more than fifty Roomful of Blues members, each bringing his or her own unique talent and vision to the mix. Famed alumni include guitarist Ronnie Earl, vocalist Lou Ann Barton, vocalist/harpist Curtis Salgado, saxist/vocalist Greg Piccolo and harpist/vocalist Sugar Ray Norcia. Recording for Rounder Records' Bullseye Blues and Varrick labels between 1980 and 2001, the band cut nine albums that won them international fame and major rock radio airplay. They've gigged with stars ranging from bluesmen B.B. King, Otis Rush and Stevie Ray Vaughan to rockers Eric Clapton and Carlos Santana. The band has performed in cities from coast to coast, and traveled abroad to 22 countries including Lebanon, Poland, Spain, Italy, France, Portugal, Switzerland, Turkey and Russia.
In addition to their band recordings, Roomful of Blues were handpicked by legendary musicians like Jimmy Witherspoon, Jimmy McCracklin, Roy Brown, Joe Turner, Eddie "Cleanhead" Vinson and Earl King to back them on stage and on record. These stars of the 1940s and 1950s blues and R&B scene were the very people who created and inspired the music that Roomful still keeps vital and alive. Roomful recorded albums with Turner, Vinson and King during the 1980s, and all three recordings received Grammy nominations. The Roomful Horns backed many other artists as well, including rocker Pat Benatar on her 1991 album
True Love
, Canadian star Colin James on his album
Colin James and the Little Big Band
and Stevie Ray Vaughan on his 1984
Live At Carnegie Hall
album.
Since Roomful joined the Alligator Records family in 2003, their popularity has continued to increase. Their first Alligator CD was the Grammy-nominated
That's Right!
in 2003, followed by
Standing Room Only
in 2005,
Raisin' A Ruckus
in 2008 and
Hook, Line & Sinker
in 2010. All four albums received massive amounts of critical and popular praise and kept old and new fans flocking to see them live.
Blurt
magazine raves, "No group has kept the spirit of early rock and roll alive better than Roomful of Blues. The heat burns red hot...they are pure fun to listen to.
They are one of America's musical treasures."
With
45 Live
, Roomful of Blues has fully captured the frenetic energy and musical power of their live show. The band will hit the road hard once again, so people can see and hear for themselves why
The Chicago Sun-Times
said, "This is a band on top of its game, sliding easily from big-band jazz-blues to guitar-drenched urban blues...let the party begin."