Sugar Blue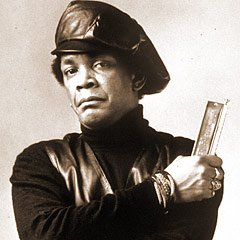 Quotes
"Sugar Blue huffs and puffs hot bent notes as though the music were boiling inside him....earnest singing and brazen harmonicas...irresistible aggressiveness."
-- Down Beat
"...an extravagantly lyrical young harmonica player."
-- New York Times
"Sugar Blue is going to be a superstar."

-- Village Voice
"Blue's technical mastery of the harmonica is incredible, especially his effortless command of the instrument's often ignored high end. His dazzling high-note runs dart with a smooth grace of execution that makes their lightning speed all the more astonishing....he is virtually in a class by himself...few blues artists in recent years have come up with a sound this personal and recognizable, or pushed the frontiers of their instrument this far."
-- Boston Globe
"...the sound of Sugar Blue's harmonica could pierce any night...it's the sound of a musician who transcends the supposed limitations of his instrument."
-- Chicago Tribune
"He's harmonica's James Joyce: he sometimes sounds as if he's trying to deconstruct the entire blues vocabulary and then patch together a bold new language with the shards left behind. His harp solos yank melody lines around as if they were tug-of-war ropes. He struts his extraordinary breath control and tongue technique...and his tone often sounds like a horn...big-league tough, skin-tight and funky...Sugar blows down lightning...and his voice is straight-ahead and authoritative...he plays from the heart with virtuosity."

-- Living Blues
"He's a brilliant instrumentalist, stringing notes together with the speed and inventiveness of a top-flight jazzman. His singing is intense. This is urban blues, '90s style."

-- Request
"He's a very strange and talented musician."

-- Mick Jagger
"Blue is a technical wonder. He blows torrents of intense, quicksilver-lightning runs -- swooping, soaring, purring, and wailing, sometimes sustaining high notes while chording beneath them. His chops are scary...Blue balances flash with feel."

-- Tony "Little Sun" Glover
"Indescribable may be the best adjective for Blue's harmonica playing -- there's simply nobody else with whom to compare his soaring chops. He takes the blues harmonica well inside the realm of a lead instrument, wringing from it lightning riffs and subtle intonations."

-- Toledo Blade
Biography
Grammy Award-winning harmonica virtuoso Sugar Blue is not your typical bluesman. He wasn't raised on a Southern farm or even on the South Side of Chicago -- he was raised in Harlem, New York. He didn't grow up with blues all around him -- he grew up with the sounds of Billie Holiday and James Brown and all the acts that played the Apollo Theatre. Sugar Blue has used this background to his advantage, though, creating an ultra-modern blues style and sound that is instantly recognizable as his own. And now with his second Alligator release,
In Your Eyes
(AL 4831), he's on the verge of setting the blues world on its head. The first radio single,
She
, is a Stonesy blues-rocker featuring a harmonica hook in the tradition of Blue's unmistakable riff on the Rolling Stones'
Miss You
, while
Gucci Gucci Man
is a clever and bluesy tale of excess. From the dizzying harmonica solos and soulful vocals to the emergence of Blue as a serious songwriter,
In Your Eyes
is bursting at the seams with the unique talents of Sugar Blue. With
In Your Eyes
, Sugar Blue emerges as a singular songwriter as well as a harmonica wizard. Between the haunting, late-night feel of the title track, the horn-driven, Latin-tinged
Lip Service And Lies
, and the up-to-the minute, socially aware
Bottom Line
, Sugar takes the harmonica -- and the blues -- beyond previously recognized limits. With a nod to traditional blues (
Bluepine
features a harmonica/piano duet with famed Muddy Waters alumni Pinetop Perkins), the sights of the album are firmly set on the future. Minor-key blues, jazz, funk, R&B and straight blues all have a home in Blue's music. If this seems strange, it shouldn't. He cites Miles Davis as a primary influence. "If you define the way you play your instrument only by the players who play your instrument, it limits you," Blue told an interviewer. And if there's one thing Sugar Blue has no time for, it's limitations. Although Blue has played and recorded with musicians ranging from Willie Dixon to Stan Getz to Frank Zappa to Johnny Shines to Bob Dylan, he is perhaps best known for his signature riff and solo on the Rolling Stones' hit
Miss You
from their
Some Girls
album. Blue performs his own version of the song on his 1993 Alligator debut,
Blue Blazes
(AL 4819).
Blue Blazes
ignited a flame under critics, fans and fellow musicians that is still burning strong. "Harmonica fans have been waiting a long time for this," said the
Boston Globe
, "Blue's technical mastery of the harmonica is incredible." The
Washington Post
, the
Chicago Sun-Times
, the
Associated Press
,
Down Beat
,
Living Blues
,
Blues & Rhythm
, and
Stereophile
all took notice, as did NBC's
Late Night With Conan O'Brien
, where Blue showcased his virtuosity to a national television audience. After this impressive display, many people began to understand why Blue has been labeled "the Charlie Parker" and "the Jimi Hendrix of the harmonica," and why Mick Jagger has called him "a very strange and talented musician." Blue was born James Whiting in Harlem, New York, where his mother was a singer and dancer at the fabled Apollo Theatre. An early ambition for the Catholic priesthood was forever put on hold when Blue first attended his grandma's Baptist Church. "Shit!" Blue said. "Now this is church!" He spent his childhood among the musicians and show people who knew his mother, including the great Billie Holiday, and decided that he wanted to be a performer. Blue received his first harmonica from his aunt, and proceeded to hone his chops by wailing along with Bob Dylan and Stevie Wonder songs on the radio. "I always wanted to be on stage in some way," Blue recalls. "I couldn't dance so I tried every instrument in the band: flute, clarinet, drums, violin. Finally, when I heard Muddy Waters with Little Walter playing harp, that was it. I decided I was gonna play." But to play, Blue figured he'd need a nickname. The young harpist was stumped until one night he and his friend were leaving a concert -- a Doc Watson concert -- when he spotted a garbage bin full of old 78s. "I picked one up," Blue remembers, "and it said
Sugar Blues
by Sidney Bechet. And I went, 'That's it!'" And he's been know as Sugar Blue ever since. Blue began his career as a street musician and made his first recordings in 1975 with legendary blues figures Brownie McGhee and Roosevelt Sykes. The following year, he contributed to recordings by Victoria Spivey and Johnny Shines before pulling up stakes and moving to Paris on the advice of pioneer blues pianist Memphis Slim. While in France, Blue hooked up with members of the Rolling Stones, who instantly fell in love with his sound. The Stones invited Blue to join them in the studio. Besides his work on the
Some Girls
album, he can be heard on
Emotional Rescue
and
Tattoo You
. He appeared live with the group on numerous occasions and was offered the session spot indefinitely, but he turned it down, opting instead to return to the States and put his own band together rather than became a full-time sideman. Before returning to the U.S. in 1982, Blue cut a pair of albums,
Crossroads
and
Chicago To Paris.
Blue's decision to return home, despite his growing renown as a session player, was spurred by his desire to work with and learn from the masters of blues harmonica. Thus he came to Chicago and proceeded to sit in with the likes of Big Walter Horton, Carey Bell, James Cotton and Junior Wells. Blue went on to spend two years touring with his friend and mentor Willie Dixon as part of the Chicago Blues All Stars before putting his own band together in 1983. With his own band, Blue's star continued to rise. He received the 1985 Grammy Award for his work on the Atlantic album,
Blues Explosion
, recorded live at the Montreux Jazz Festival. He recorded on Dixon's Grammy-winning
Hidden Charms
album in 1989. He has appeared across America, Europe and Africa at many prestigious festivals -- Zurich, Den Haag, Antibes, Nice, Cannes, Montreal, Chicago -- and has performed on festival stages with classic artists like Muddy Waters, B.B. King, Art Blakey and Lionel Hampton. Blue continues to appear in clubs and festivals around the world and has also set his sights on television and the big screen. He sat in with Fats Domino, Ray Charles, and Jerry Lee Lewis for the Cinemax special,
Fats Domino and Friends
, and has appeared on screen and in the musical score of Alan Parker's acclaimed 1987 thriller
Angel Heart
, starring Robert DeNiro. He has also appeared in the films
Johnny Handsome
and
An Unmarried Woman
. With
In Your Eyes
, Sugar Blue is now poised for superstardom. Rather than continuing in the traditions set down by the older players, Blue incorporates what he has learned into his visionary and singular style. With his soaring, swooping, highly melodic harmonica runs that make unusual use of the low and the high end of the instrument, his funked-up rhythms, his rock-solid guitars, and his truly original songs, Blue steps into musical territory that has not yet been charted. According to Blue, "This album takes the lessons of the teacher and sees what the student can do with them." From the sounds of
In Your Eyes
, the lessons have been learned and Sugar Blue is about to have a whole lot of students of his own.