The Mellow Fellows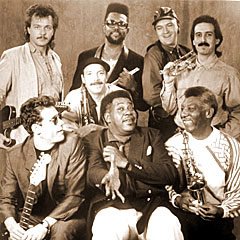 Biography
From straight blues to brassy, funky R&B to soul ballads to danceable rock 'n' roll, The Mellow Fellows' music epitomized Chicago's blend of tough, rust belt attitude and uptown sophistication.
For a decade, Big Twist and The Mellow Fellows were one of the Windy City's most popular bands, as well as a favorite among critics and fans across the country and abroad. The most famous Mellow Fellow, vocalist Larry "Big Twist" Nolan, who had fronted the band as vocalist since its inception, died in 1989. But the co-founders of the band, guitarist Peter Special and saxman Terry Ogolini were determined to carry on The Mellow Fellows tradition. Two years before his death, Twist, aware of his health problems, had brought his old singing partner Martin Allbritton (a great singer in his own right) up to Chicago from the downstate Illinois town of Carbondale. Martin joined Twist on the bandstand, sharing vocals with him. Twist and Martin performed together right up to the week of Twist's death.
Along with Martin, the frontman role with The Mellow Fellows was shared by an R&B legend, Gene "Daddy G" Barge. Gene's long and distinguished career began in Norfolk, Virginia, where he played with and arranged for Gary "U.S." Bonds. That's Gene's sax on "Quarter To Three" and many other Bonds hits. Coming to Chicago in the wake of his own instrumental hit, "Country" (recorded in Norfolk and leased to Chicago's Chess Records), Gene found a slot in Chess' production department as a rhythm section arranger. Within months, he had graduated to the role of producer/arranger for much of Chess' 1960s blues and R&B output, including classic sides by Little Milton and Buddy Guy. He followed his Chess years with a stint as a producer/arranger at Stax Records. After Chess and Stax were absorbed by giant multinational labels, Gene turned his attention to The Mellow Fellows, who were quickly becoming Chicago's #1 purveyors of the R&B tradition that Gene had helped to create. He joined The Mellow Fellows' organization, first as a horn arranger, then as a co-producer and finally on the bandstand as a vocalist and featured soloist.
For Street Party, their only album without Big Twist's larger-than-life musical personality, The Mellow Fellows moved forward musically. They added a host of new songs to their repertoire, from straight-ahead blues like "Driving Wheel" to soulful ballads like John Hiatt's "Feels Like Rain." Gene and Peter wrote four songs for the band, including the title track. And to take advantage of the gritty, Memphis soul quality of Martin's vocals, The Mellow Fellows expanded their sound to include more tough, uptempo '60s-style soul.
Although they are considered a Chicago band, the original Mellow Fellows actually didn't come together in Chicago, but rather in Carbondale, Illinois. Peter Special, a college student from Chicago, joined with Terry Ogolini and they recruited local legend Big Twist as vocalist. The young R&B band with the giant vocalist gathered a rabid local following among Southern Illinois University students. When the band moved to Chicago in 1978 their first audience was Chicago-based SIU students, but soon the band had earned a hardcore following in Chicago. Signing with Flying Fish Records, The Mellow Fellows cut two albums that introduced their brassy sound to a national audience.
In 1983, the band signed with Alligator, releasing
Playing For Keeps
, their first album with Gene Barge and Peter Special co-producing. The album won critical acclaim and inspired Alligator to produce its first music video, "300 Pounds of Heavenly Joy." The band's first live album,
Live From Chicago—Bigger Than Life!!,
followed in 1986, again with Barge and Special as producers.
After the recording of
Street Party
and a year or so of hard touring, Martin Allbritton was forced to retire from the band due to his own health problems. Regrouping as The Chicago Rhythm & Blues Kings, The Mellow Fellows have continued to gig with a variety of excellent vocalists including Gene "Daddy G" Barge. Their legacy of hard- hitting Windy City blues and R&B lives with a huge number of dedicated fans.
Discography
1990 Street Party (Alligator)