Bruce Katz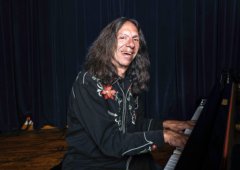 Biography
Back in December of 2016 Grammy-winning guitarist, vocalist and Blues Hall Of Famer
Joe Louis Walker
first met and jammed with next-generation British harmonica ace
Giles Robson
at a festival in the Netherlands. Almost immediately, Robson began dreaming about recording an acoustic blues album with Walker. When asked, Walker quickly agreed, and suggested adding famed piano virtuoso
Bruce Katz
to the mix. Just over a year later, Walker, Katz and Robson met up in a freezing cold Woodstock, New York and recorded
Journeys To The Heart Of The Blues
, a warm, beautifully played, soulfully sung album of traditional blues. Alligator Records is releasing the album throughout North America, Australia, New Zealand and Japan. Munich Records, a division of V2 Records Benelux, will release it in all other territories.
Produced by Walker, Katz and Robson and recorded at NRS Studio,
Journeys To The Heart Of The Blues
captures three blues giants digging deep, performing a carefully chosen collection of rare and classic blues and one newly written instrumental. These are gimmick-free, stripped down recordings, full of raw emotion. The songs—by blues masters including Sonny Boy Williamson, Jazz Gillum, Blind Willie McTell, Smiley Lewis, Papa Lightfoot and Big Maceo—may be old, but the recordings are fresh and vibrant. Walker's vocals and guitar have never sounded more soulful. Katz's virtuoso piano playing adds texture and depth, while Robson's harmonica playing fuels the music to even greater heights. According to Robson, "
Journeys To The Heart Of The Blues
celebrates the dynamics, grooves, lyrics and feeling of pure, traditional blues. It's blues played intimately and at a low volume and with the wonderful space that is created when drums and bass are taken out of the equation."
NPR Music
says Joe Louis Walker is "a legendary boundary-pushing icon of modern blues." He is among the blues' most honored players, and is known worldwide as a mesmerizing guitarist and soul-testifying vocalist. Walker was born in San Francisco on Christmas Day, 1949. He picked up the guitar as a child, and by the time he was 16, was an in-demand musician on the local club scene, regularly backing touring blues artists rolling through town. As a teenager, he was the house guitarist at San Francisco's famed musical playground The Matrix, where he played with or opened shows for everyone from Lightnin' Hopkins to Jimi Hendrix to Thelonious Monk. Since his debut record in 1986, Walker has released 23 albums and has toured the world virtually non-stop. In addition to his Grammy Award, he has won four Blues Music Awards, and has been nominated for a BMA a whopping 52 times.
Pianist Bruce Katz, among the most in-demand pianists on the blues scene and a four-time Blues Music Award nominee, was born in New York City in 1952. He has recorded nine albums with The Bruce Katz Band and has performed, toured and recorded with The Gregg Allman Band, Delbert McClinton, Jaimoe's Jasssz Band, John Hammond, Ronnie Earl, Duke Robillard, Joe Louis Walker and Butch Trucks as well as with The Allman Brothers Band. Greg Allman said of Katz, "He can play jazz, blues, Bach, anything. Man, he's a heavy!" Legendary blues pianist Pinetop Perkins simply said, "Now
that's
a piano player."
UK-based harmonicist and bandleader Giles Robson, born in 1978, has recorded three albums and has won fans and headlined festivals all across the UK, Europe and even Russia. A lifelong blues devotee, he knows and understands tradition but is unafraid to take the music in unexpected directions. His most recent CD is 2016's
For Those Who Need The Blues
. He picked up his first harmonica at age 14 and soon after saw a concert by American Piedmont blues duo Cephas & Wiggins at his local arts center. From then on, he was hooked on the blues.
Blues Matters
(UK) says, "Robson is a world class harpist. He has the authority, confidence and expertise associated with legends."
Together, the interplay of these three master musicians borders on telepathic. With
Journeys To The Heart Of The Blues
, they have created a dynamic, intimate album of pure, unrestrained blues magic. According to Walker, "this album is a throwback to the days of less is more. No long guitar solos, no drums or extra instrumentation. Just good honest blues played with heart and soul. I hope people enjoy it as much as we enjoyed making it." Katz says, "This was an incredibly satisfying CD to record. To be able to play deep, real blues with musicians like Joe and Giles was a truly soulful experience." As Robson says, "Each song on the album took us on a journey, both lyrically and musically, to the heart of blues music. We invite you to take those journeys with us." With that in mind, Joe Louis Walker, Bruce Katz and Giles Robson will join forces live and tour Europe in fall of 2018, with plans to bring the music to the U.S.A. in the near future.
walkerkatzrobson.com
joelouiswalker.com
brucekatzband.com
gilesrobson.com
munichrecords.com
scottpetitoproductions.com