Dave Hole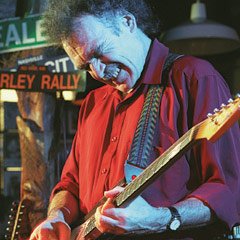 Quotes
Electric slide...a dizzying, slash-and-burn, good time stomp."
--Living Blues
"Assuredly rocking...wild, over-the-top blues-rock...a whale of a good time."
--Guitar
"Ripping and roaring....He's an extraordinary slide guitarist whose raucous sound recalls Elmore James and Johnny Winter...extremely fluid...lacerating."
--Washington Post
"Crackling electricity and raw energy flows from the man. Ripping, speaker-melting play-every-note-like-you-mean-it, big-balls-out guitar is what he's all about."
--Vintage Guitar
"Hole plays ferocious, adrenaline-charged electric slide....throws swooping and swirling slide guitar notes into the stratosphere for a dizzying, slash and burn, good-time stomp. Sizzling and supercharged...a one-way journey to sonic joy."
--Living Blues
"Dave Hole's overhand slide continues to blaze and amaze. Elmore James, Hound Dog Taylor and Duane Allman resound in his swoops and slides, while his fingers-on-the frets forays recall Albert King."
--Guitar Player
"Incendiary bottleneck blues...impressive. Highly recommended."
--Guitar Shop
"Slide sensation flaunts fretboard flash...slashing, burning and raucous... Hole's slide technique is really astounding."
-- Jazz Times
"One of the greatest blues slide guitarists in the world....drips with emotion and controlled frenzy. Hole's playing defies comparisons."
--Chicago Sun Times
"One of the most incendiary guitarists ever...jaw-dropping slide work."
--Bikini
"Searing, steel-guitar-like tones....Long, fat, sustained notes that screech like a siren with a wildly tremulous vibrato...an effective composer of molten blues-rock tunes."
--Los Angeles Times
"A combination of wild abandon and surgical precision....soul deep singing and incendiary fret work. Shuffles and swaggers in the best road-house style. His slide work dive bombs with fat tone and vibrato, played with string-melting intensity. His speed and dexterity will leave you scratching your head and wondering how he can pull it all off with style, fire and grace."
--Blues Access
Biography
Seemingly out of nowhere, Australian guitarist/vocalist/songwriter Dave Hole first burst onto the American music scene in 1992. Since that time, critics and fans have declared Hole one of the most exciting and original slide guitarists in the world. His five successful Alligator albums have earned him heaps of critical praise and his jaw-dropping live show leaves audiences around the world breathless and screaming for more. "Magnificent, staggering, almost beyond belief," raves
Guitar Player.
Spin
magazine agrees, simply stating, "The most accomplished slide guitarist to come around in a long time…Hole's guitar says everything that needs to be said." But Hole's fans want more. At live gigs around the world, fans constantly ask Dave as they're purchasing CDs from him, "Where's the live one?"
Dave Hole can now answer that question with his new Alligator album,
The Live One.
Recorded in front of wildly enthusiastic audiences in Dave's hometown of Perth, Australia in 2001 and in his spiritual home of Chicago, Illinois in 2002,
The Live One
captures blistering live performances of songs from throughout Dave's career. Among the many highlights on the album, Hole rips through versions of originals
Jenny Lee, Short Fuse Blues,
and
Up All Night Thinking,
slows things down on the tour-de-force instrumental
Berwick Road,
and turns in remarkable interpretations of
Bullfrog Blues
and the Jimi Hendrix classic
Purple Haze.
Dave Hole's love of blues started early. As a young teenager he followed the musical trail of the Rolling Stones, the Animals and Them directly to records by Muddy Waters, Howlin' Wolf and Jimmy Reed. When he joined his first band in Perth at age 16, Dave recalls "mystifying" people with music they'd never heard before -- the blues. But people were even more mystified -- and blown away -- when Dave discovered the secrets behind the eerie sounds of Waters, Elmore James and Robert Nighthawk came from slipping a small piece of glass or metal over the little finger -- a slide. He set out to master the style, but an injury to his little finger forced him to take a rather unusual approach. Instead of sitting on the sidelines waiting for his finger to heal, Dave put the slide on his index finger and hung his hand over the guitar neck, creating a launching pad for a sound and style all his own. When the finger finally healed, Dave continued playing the wrong way for all the right reasons.
While it's been just over 10 years since Dave Hole first put himself on the United States musical map, he's actually been playing and performing for 35 years. Born in England in 1948, he moved with his family to Perth, Australia when he was a child. After falling in love with the blues, he wanted to hear more, but because of Perth's isolation it was difficult to find blues records. It was even rarer for a blues artist to perform there, so Dave had to teach himself how to play. At first, only Eric Clapton and Jimi Hendrix albums were easily available, but with persistence (a trait Dave Hole has in abundance) he got his hands on records by Blind Willie Johnson, Skip James, Blind Lemon Jefferson and many others. His main teachers -- on record -- were Robert Johnson, Elmore James and Mississippi Fred McDowell. Hole listened to their recordings over and over, until he knew all of their licks, and he then developed his own, radical instrumental technique.
Beginning in 1974 and throughout the 1980s, Hole was playing steadily around Perth and the country towns of western Australia, only twice venturing to major eastern cities like Sydney and Melbourne. In 1990, the blues magic struck again for Hole when he self-financed and recorded his debut album,
Short Fuse Blues,
primarily for sale to his fans at his live gigs. Acting on a whim, he mailed a copy of his record to
Guitar Player
magazine. An April, 1991 review and a July, 1991 feature story launched Hole into the blues stratosphere. "Magnificent slide work...ferocious, fire-breathing. What more could you ask?" declared the influential publication. Then a copy of the story and the album landed on the desk of Alligator Records president Bruce Iglauer, who took a chance by releasing the album and making Dave Hole the label's only overseas signing. "I was very reluctant to sign an artist based on the other side of the world," recalls Iglauer. "I usually like to work with artists who are constantly touring the U.S., but love of the music overcame my good business sense."
The gamble more than paid off. Critics all over the country heaped mounds of praise on Hole, and many new fans heard Dave on the radio as hundreds of stations spun the disc in their rotations. Rave reviews appeared in
Guitar World, Billboard, Audio, Spin, The Chicago Tribune,
and in many other publications, as well as on the
Associated Press
newswire. Even without setting foot on American soil, Dave's name was being mentioned alongside those of Duane Allman, Ry Cooder and Johnny Winter, taking him from virtual obscurity to international recognition. And it wasn't just the critics who were paying attention. When veteran rock and blues guitarist Gary Moore heard
Short Fuse Blues,
he was so impressed he invited Dave to join him on two European tours. People everywhere were moved, including Metallica's Kirk Hammett, who named Dave Hole as one of his favorite guitarists, saying, "His slide playing kills me."
To support his growing success, Hole made his debut North American tour in 1993, playing almost 50 shows in nine weeks in every major city in the United States. Night after night, screaming crowds came out to cheer him on. His next five albums, 1993's
Working Overtime,
1994's
Steel On Steel,
1996's
Ticket To Chicago,
1999's
Under The Spell
and 2001's
Outside Looking In,
along with multiple American tours, made Hole a bona fide slide guitar hero.
Billboard
exclaimed, "Slide guitar fanatics will have their brains blown out by this Australian fret-melter...remarkably inventive…prepare to hear your jaw hitting the floor."
DownBeat
raved, "Harrowing slide-guitar solos and rampaging vocals...wickedly seductive, playfully inventive." "Dizzying, supercharged," shouted
Living Blues,
"A one way ticket to sonic joy."
Mixing his blistering, over-the-top slide work and supercharged vocals on
The Live One,
Dave continues to place more and more people under his unbreakable blues-rocking spell. But even with a slew of globe-crossing tour dates, can Dave Hole - one guitar player from Perth, Australia - possibly live up to all of this praise? "Yes," said
Blues Revue,
"he's that good." Want proof? Just listen to
The Live One.