Little Charlie & The Nightcats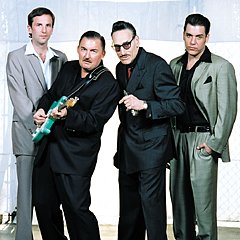 Quotes
"Powerful...outrageous...wonderful....Baty's immediately recognizable guitar style and Estrin's uniquely twisted and humorous lyrical vision [make] Little Charlie and the Nightcats one of the most successful proponents of the blues/swing /rock/jazz synthesis so popular today."
--
Living Blues
Biography
Sacramento-based blues, swing and jump masters Little Charlie & The Nightcats had much in common with their feline counterparts. They took great (musical) leaps and always landed on their feet, they were constantly on the prowl (gigging all over the world), and, with all of the various styles of music they played, they seemed to have many lives. Their nine remarkable career albums combined unsurpassed musicianship and inventive lyrical vision with their deep understanding of blues and jazz traditions to produce music that was both technically brilliant and soulfully streetwise. "Endlessly impressive," raved the
Associated Press
. "Marvelously entertaining and brilliantly played," agreed the
San Francisco Examiner
.
World-class musicians guitarist Little Charlie Baty and harmonicist/vocalist/songwriter Rick Estrin first teamed up in the 1970s and took hard Chicago blues, jump, Texas swing and jazz and mixed it with rockabilly, proto-rock'n'roll, jumping jive, bebop and R&B, all peppered with Estrin's sharply original lyrics, creating a sound one critic described as "Charlie Christian playing in Little Walter's band." Their utter mastery of American roots music was fueled by Baty's jaw-dropping guitar acrobatics and driven by Estrin's captivating original songs, cutting vocals and brilliant harmonica playing.
With each new Little Charlie & The Nightcats release, it became increasingly clear that not only were these cats great musicians, but also that Rick Estrin is a songwriter of unparalleled skill. His songs stand shoulder to shoulder with those of Willie Dixon and the songwriting team of Leiber and Stoller. Estrin won the 1993 Blues Music Award for his composition
My Next Ex-Wife,
and has written songs for a growing legion of famous fans. Three of his songs found their way onto Grammy©-nominated albums:
Don't Put Your Hands On Me
(from Koko Taylor's FORCE OF NATURE),
I'm Just Lucky That Way
(from Robert Cray's
Shame + A Sin
), and
Homely Girl
(from John Hammond's
Trouble No More
with Little Charlie & The Nightcats serving as his backing band). Other artists who have covered Estrin songs include Little Milton, Rusty Zinn, Kid Ramos and Mark Hummel. "I like songs that tell stories," he says, "songs that are well-crafted and meaningful." Besides Dixon and Leiber and Stoller, Estrin cites Sonny Boy Williamson II, Percy Mayfield and Baby Boy Warren as his major songwriting influences.
As a harp player, Estrin has few peers. His work on the reeds is at once deep in the tradition of harmonica masters Sonny Boy Williamson, Big Walter Horton and Little Walter Jacobs while at the same time pushing that tradition forward. "Rick Estrin sings and writes songs like the brightest wise guy in all bluesland and blows harmonica as if he learned at the knee of Little Walter," raves
Down Beat
.
The San Francisco Chronicle
sums it up this way: "Rick Estrin is an amazing harmonica player, a soulful lead vocalist and a brilliant songwriter."
Matching Estrin's prowess lick for lick was Baty's wild, seemingly impossible guitar excursions. From jazz to blues to rock to surf, Baty had all the styles mastered. He seamlessly blended various elements into a guitar sound that was his alone.
Guitar World
declared, "Baty's straight blues playing is eye-popping...he stretches solos to the breaking point, skittering on the edge, where one wrong note will bring the whole thing crashing down." "Little Charlie Baty plays as much guitar as Eric Clapton and Buddy Guy put together," raved
The Village Voice
. "He is one of the swiftest, most fluent guitarists working in any genre." Rounding out the last incarnation of Little Charlie & The Nightcats were drummer J. Hansen (who had been with the band since 2002) and bassist Lorenzo Farrell (who joined in 2003), both veterans of the Bay Area's Steve Lucky and the Rhumba Bums. Hansen, who also toured with members of the Preservation Hall Jazz Band, made his songwriting and singing debut on the band's final album,
NINE LIVES
, with his composition
Deep Pockets
. Farrell was a key member of the San Francisco jazz scene, equally adept at performing and composing Brazilian, modern and big band jazz. Hansen and Farrell combined to produce one of the most exciting rhythm sections in the Nightcats' history. Farrell, now mostly playing keyboards, is a charter member of the band's reincarnation as Rick Estrin & The Nightcats.
The story of Little Charlie & The Nightcats began back in the early 1970s when Baty--a harmonica-playing UC Berkeley student--first met Estrin. With Rick already an accomplished harp player, Baty decided to switch to guitar full-time and the two formed a blues band. After relocating to Sacramento, Baty quickly reinvented himself as a take-no-prisoners, one-of-a-kind guitarist. With the addition of a drummer and a bass player, Little Charlie & The Nightcats were born.
In 1986 the band sent an unsolicited tape to Alligator Records. Alligator president Bruce Iglauer was blown away. He flew to Sacramento to see the band perform and was sold. Their debut album,
ALL THE WAY CRAZY
, was released in 1987 to overwhelming success. Almost immediately they went from playing small Sacramento blues clubs to performing concerts and festivals around the country and around the world.
The band's following albums, 1988's
DISTURBING THE PEACE
, 1989's
THE BIG BREAK!,
1991's
CAPTURED LIVE
, 1992's
NIGHT VISION
, 1995's
STRAIGHT UP!,
and 1998's
SHADOW OF THE BLUES
solidified their reputation as one of the most adventurous and sophisticated blues bands around. 2002's
THAT'S BIG!
continued their success, with reviews and features running in
The Chicago Tribune, The New York Post, The Washington Post, The Houston Chronicle, GuitarOne, Guitar Player
and many other national and regional publications. The band also was featured in a 20-minute interview and performance segment on National Public Radio's
Weekend Edition.
2005's
NINE LIVES
was their final album before Baty's retirement.
Guitarists, harp players, songwriters, fans and critics were overwhelmed by the band. "Can anyone name a better guitarist than Little Charlie?" asked
Blues Revue
. "Who can out-tough Rick Estrin? Little Charlie & The Nightcats play some of the deepest blues out there." Little Charlie & The Nightcats constantly criss-crossed the country to play hundreds of live performances every year, including major blues festivals in Chicago, San Francisco, Cincinnati, New York and Portland. They played The Montreal Jazz Festival, San Diego Street Scene, Seattle's Bumbershoot Festival and at blues festivals throughout Russia and Turkey. "We're good at putting on a show," boasted Estrin. "People don't go out to see people who look like them. They want to see something special. I was schooled in this business to be a showman, and that's what you get when you come to see us."
The band attracted new fans across the country and around the world. "The blues needs converts," noted
The Village Voice
, "and Little Charlie & The Nightcats make a few new believers every night."
The Chicago Sun-Times
declared, "It's tough for fans to stay in their seats when Estrin and Baty and their musical cohorts get cooking." Indeed, these cats jumped, prowled and always come to play.
Little Charlie Baty retired from the band and from full-time touring in 2007. He played "gypsy jazz" around the Bay Area and toured with friends like Mark Hummel J-W Jones and Sugar Ray and the Bluetones, recording with all three. He died of a heart attack on March 6, 2020, venerated by blues fans worldwide.
After Baty's retirement from touring, Rick Estrin brought guitarist Chris "Kid" Andersen into the band, which was renamed Rick Estrin & The Nightcats. They've toured across the U.S. and Europe, won mutliple Blues Music Awards and cut five albums for Alligator Records