Son Seals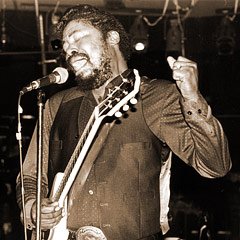 Quotes
"Seals' guitar style is built on soul, speed, intensity and an unflagging sense of timing and blues invention. [He'll] take a note and torture it, attacking a lick and repelling it five different ways, building power as he goes."
-- Guitar World
"Seals, always the most brooding of Chicago bluesmen, reaches down and pulls up performances of the most profound emotion...one of the genre's most soulful exorcists."
-- Musician
"Seals' sound is all Chicago barroom grit, just as much rhythm as blues, with a little rock 'n' roll and a lotta soul. He's unbeatable live. Nobody in the business plays with as much grueling intensity."
-- Option
"Seals' tough vocals and emotional guitar resonate with the power of his blues...soaring guitar runs, passionate vocals...contemporary Chicago blues by one of its premier practitioners."
-- Pittsburgh Post-Gazette
"His deep, gruff, hard-edged voice perfectly matches the acid bite of his bad ax, which sometimes moves up into Albert Collins overdrive, sometimes down for a peck of chicken scratch. His guitar work is searing and expressive...he strikes with no-holds-barred ferocity."
-- Down Beat
"Hard-driving...smoldering...boisterous...explores the boundaries of modern blues guitar ... growling, aggressive vocals...forceful, slashing guitar playing."

-- Blues Revue
"Seals is responsible for the most challenging, ambitious Chicago blues going....Ominous vocals, jazzy fluidity and dashes of the blaring rhythm-and-blues horns that are his trademark. Seals guitar playing is always expressive...he still blows away the competition."
-- Philadelphia Inquirer
"A bluesman with conviction. His vocals are rough and gritty...searing guitar work. Seals wears his emotions on his sleeve and packs a powerful punch with his playing and singing."
"Searing and expressive...Seals strikes with no-holds-barred ferocity"
-- Down Beat
"Seals carves guitar licks like a chain saw through solid oak and sings like a grainy-voiced avenging angel."
-- Guitar World
Biography
Son Seals will always be regarded as one of Chicago's--and the blues'--greatest artists. From his debut recording, when he burst on the scene as a fully formed and mature artist, up to his last recordings, his stature as a leading blues voice grew with each new album he released. His untimely death in December 2004 robbed the blues of a major voice.
When guitarist/vocalist/songwriter Frank "Son" Seals unleashed his debut Alligator recording in 1973, his feral guitar work, scorching vocals and innovative songwriting immediately marked him as one of the major blues voices of his generation. At the time, many young blues players were simply covering the popular blues standards of the day. But Son was an original, writing most of his own material and playing his guitar with a fierce, raw intensity matched only by his ferocious vocals. Born in Osceola, Arkansas in 1942, Seals grew up immersed in the blues. His childhood home was a few rooms in the back of his father Jim's juke joint, The Dipsy Doodle (famous for blues in the front and dice in the back). With musicians like Sonny Boy Williamson, Albert King and Robert Nighthawk playing within earshot of his bed nearly every night, Son knew the blues before he began walking. Even with all the great bluesmen around the house, Son's father Jim was his greatest inspiration. Jim Seals had played piano, trombone, guitar and drums, touring with the famed Rabbit Foot Minstrels, the training ground of Ma Rainey and Bessie Smith. Because he was such a well-known musician, Jim was able to draw some of the biggest names to perform at his little club. When Son decided at an early age to become a musician like his father, Jim made sure Son would learn to do things right. "My father taught me everything from the start," Son recalls. "Tuning the guitar, fingering. Where I wanted to be riffing around all up and down the neck right away, he'd keep me on one chord for hours, until I could feel in it in my sleep. I'd get up the next morning, grab the guitar, and I'd be right on that chord."
By the time he was 13, Seals was an accomplished drummer, backing many of the artists who came through The Dipsy Doodle. At 18 he was leading his own band as a guitarist during the week and playing drums behind whomever was playing at his father's club on the weekends. Seals hit the road playing guitar with Earl Hooker in 1963, and soon after that as a drummer with Albert King (with whom he recorded the seminal Stax album
Live Wire/Blues Power
). He moved to Chicago in 1971 and began jamming with everyone from Junior Wells to Hound Dog Taylor to James Cotton and Buddy Guy. After Hound Dog Taylor's Alligator debut album hit and he began touring, Son took over Hound Dog's regular weekend gigs at The Expressway Lounge on Chicago's South Side.
Seals' debut album,
The Son Seals Blues Band
, established him as a groundbreaking new blues artist. Son's audience base grew as he began to tour, playing colleges, clubs and festivals across the country. His 1977 album,
Midnight Son
, was his true breakthrough. The album received widespread acclaim from every major music publication.
Rolling Stone
called it "one of the most significant blues albums of the decade." Robert Palmer, writing in
The New York Times
, called Son "the most exciting young blues guitarist and singer in years."
On the strength of
Midnight Son
, Seals began what would become regular tours of Europe, and he even appeared in a national television ad for Olympia beer. A strong series of six more successful Alligator releases followed through the 1980s and 1990s, growing Son's audience from a few hundred into many thousands. He became a favorite of critics everywhere. "Excellent modern blues," exclaimed
Blues & Rhythm
.
Musician
declared Seals delivered "performances of the most profound emotion...one of the genre's most soulful exorcists." But it wasn't just the critics. Fellow musicians -- from inside and outside of the blues world -- took notice of Seals' immense talents. Seals shared stages with icons like B.B. King and Johnny Winter. Even the popular rock group Phish came calling, covering Seals' "Funky Bitch" on record and inviting the bluesman to join them on stage at many of their tour stops.
Son's reputation as a charismatic live performer and a fiercely individual songwriter took him from playing in small clubs to headlining international blues festivals. Over the course of his eight Alligator albums, Seals emerged as one of Chicago's -- and the world's -- greatest bluesmen, and one of the genre's most powerful live performers. From his introduction as a hot young firebrand in 1973 to becoming a leading voice of Chicago blues, Son Seals blazed a blues trail that others will follow for years to come.
Discography:
1973 The Son Seals Blues Band (Alligator)
1976 Midnight Son (Alligator)
1978 Live And Burning (Alligator)
1980 Chicago Fire (Alligator)
1984 Bad Axe (Alligator)
1991 Living In The Danger Zone (Alligator)
1994 Nothing But The Truth (Alligator)
1996 Live--Spontaneous Combustion (Alligator)
2000 Lettin' Go (Telarc)
2002 Deluxe Edition (Alligator)