Junior Wells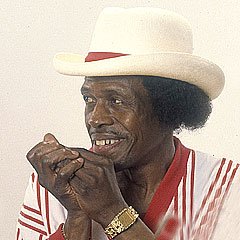 Biography
Junior Wells created some of the toughest blues ever to come out of Chicago. Though a small man physically, his music was bold, cocky and aggressive, just like his personality. Junior Wells' blues career began when he was just a young teenager. Born in Memphis in 1934, Junior began playing harp while still a child. Moving to Chicago in 1946, he sought out the blues stars of the older generation including Tampa Red and Johnny Jones, who slipped young Junior into the blues clubs to sit in. "Little Junior" was a local star at the age of 15, leading a band that included the Myers Brothers, who later joined Little Walter in The Aces. Junior recorded as a sideman with Muddy Waters at 16, and began cutting singles under his own name at 19, including classics like "Hoodoo Man Blues" and "You Better Cut That Out." When the great Little Walter, the harp player with Muddy's band, had his own hit with "Juke" and decided to start a solo career, Muddy called on young Junior to fill the place of the acknowledged master. Junior's tenure with Muddy was cut short by the draft but he went AWOL to cut "Standing Around Crying" with Muddy.
Beginning in 1957, Junior recorded a series of hit blues singles for Mel London's Chief and Profile labels, including "Little By Little," "Messin' With The Kid" and "Come On In This House," all of which stand as contemporary blues classics. These 45s made him a star in Chicago, the king of Theresa's Lounge on the South Side, and a giant figure on the local scene.
Junior began making albums in 1966, beginning with the classic Delmark disc,
Hoodoo Man Blues
, backed by the guitar of his partner, Buddy Guy. Junior and Buddy quickly became the most famous team in the blues, touring worldwide and playing with major rock names like The Rolling Stones and Eric Clapton. They recorded both on their own and as a duo.
Junior's style was cleaner and less distorted than other Chicago harmonica players, reflecting the early influence of both John Lee "Sonny Boy" Williamson and Rice "Sonny Boy II" Miller. Beginning in the '60s, Junior developed a distinctive percussive, staccato style that brought a contemporary, funky feeling to his playing. His harmonica echoed his vocals, bringing together the Delta style of Muddy Waters with the syncopated phrasing and attack of James Brown.
Junior toured and recorded actively until he was diagnosed with cancer in 1997. He died on January 15,1998, hailed as one of the giants of the blues.
Discography
1965 Hoodoo Man Blues (Delmark)
1966 It's My Life, Baby (Vanguard)
1968 Comin' At You (Vanguard)
1968 You're Tuff Enough (Mercury)
1969 Live At The Golden Bear (Mercury)
1970 South Side Blues Jam (Delmark)
1972 Buddy Guy & Junior Wells Play The Blues (Vanguard)
1975 On Tap (Delmark)
1977 Blues Hit Big Town (Delmark) (reissue of early singles)
1979 Pleading The Blues (Evidence) (originally issue on French Isabel label)
1982 Drinkin' TNT 'n' Smokin' Dynamite (Blind Pig) (w/Buddy Guy)
1990 Harp Attack! (Alligator) (w/James Cotton, Carey Bell & Billy Branch)
1991 Alone And Acoustic (Alligator) (w/Buddy Guy)
1992 Undisputed Godfather Of The Blues (GBW)
1993 Better Of With The Blues (Telarc)
1995 Everybody's Gettin' Some (Telarc)
1997 Come On In This House (Telarc)
1997 Live At Buddy Guy's Legends (Telarc)