Billy Branch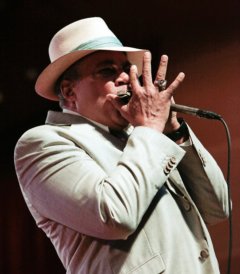 Upcoming Tour Dates
| | | |
| --- | --- | --- |
| Oct 01, 2021 | Billy Branch's Birthday Party at Buddy Guy's Legends | Chicago, IL |
| Oct 15, 2021 | Logan Center Bluesfest | Chicago, IL |
| Oct 23, 2021 | Alligator Records' 50th Anniversary - All Star Blues Revue | Schaumburg, IL |
View All Tour Dates
Quotes
"A potent blend of rootsy integrity and exploratory zeal." —
Living Blues
"Branch has a warm, open vocal style and a full command of the blues harp, from wailing notes to chugging rhythms." —
The New York Times


As a committed Chicago blues harmonica player, Branch has almost no rival…He's set the gold standard.
--DownBeat
Biography
Blues giant
Billy Branch
is among today's greatest harmonica players. With his inventive, deeply rooted playing and gritty, soulful vocals, Branch carries on the Chicago blues tradition that he learned first-hand from icons including Big Walter Horton, James Cotton, Junior Wells, Carey Bell, Willie Dixon and many others. His famous teachers made it clear to anyone who would listen that Branch was the heir apparent to the Chicago blues harmonica throne. With his instantly recognizable sound and his band, The Sons Of Blues, Branch has traveled the world, creating living, breathing and evolving Chicago blues for over four decades. In addition, he's dedicated years of work to the Blues In The Schools program, helping children—the next generation of blues artists and fans—develop a love for and understanding of the genre.
Branch is among the very last living bluesmen to have been tutored and mentored by the original blues giants. The young bluesman was able to absorb the tradition and over the years develop a style and sound all his own. With a huge blues vocabulary and dynamic versatility, Branch brings elements of soul, funk and rock to his playing. His upper register licks and his emotional, melodic ballad playing define his sound even further. He is a gruff and potent vocalist, a groundbreaking solo artist, an in-demand session player and consummate band leader. He is a three-time Grammy nominee, a three-time Blues Music Award winner, a two-time Keeping The Blues Alive Award winner (for Education) and a two-time
Living Blues
Critics' Award winner. Branch has recorded eleven albums under his own name and has appeared on scores of other recordings.
The new Alligator album,
Roots And Branches–The Songs Of Little Walter
, finds Billy Branch & The Sons Of Blues doing what they do best. Branch and the band breathe life and fire into their reimaginings of the renowned songs of Little Walter Jacobs, one of the principal architects of the Chicago blues sound and one of the most influential blues harmonica players who ever lived.
Roots And Branches
, recorded in Chicago and co-produced by Billy Branch, Rosa Branch and longtime Sons Of Blues pianist Sumito "Ariyo" Ariyoshi, features 15 songs written by and or made famous by Little Walter. Each song is played with equal amounts of Branch's deeply rooted reverence and up-to-the-minute innovation. The songs seem to jump out of the speakers and come alive. They are as timeless in Branch's and The Sons Of Blues' reinventions as in Walter's feral originals. Along with Branch and Ariyoshi, the band features guitarist Giles Corey, bassist Marvin Little and drummer Andrew "Blaze" Thomas. At the end of the album, Little Walter's daughter, Marion Diaz, shares a few anecdotes of life with her legendary father.
According to Branch, "We were determined not to make this a 'typical' Little Walter tribute recording. We are proud to present an album with elements of soul, funk, and even a little bit of gospel. Our goal was to competently and respectfully produce a Little Walter-themed recording with a different twist, while preserving the integrity of Little Walter's innovative style."
Born William Earl Branch in Chicago on October 3, 1951 and raised in Los Angeles, Branch first picked up a harmonica at age ten and began picking out tunes on his own. In his words, "I've never been without a harp since." He grew up listening to Motown and classic rockers like The Rolling Stones, The Doors, The Beach Boys and folkies like Pete Seeger. But it wasn't until he returned to Chicago in 1969 and enrolled at the University of Illinois that he fell in love with the blues. In August of that year he attended a blues music festival in Grant Park organized by legendary songwriter and bassist Willie Dixon. That afternoon, Dixon and his all-star group backed up Muddy Waters, Koko Taylor, Bo Diddley, Buddy Guy, John Lee Hooker and more top level artists. Billy was an instant convert (and only a few years later was playing in Dixon's band). When not attending classes, Branch immersed himself into the local blues scene, spending time at many of the famous blues haunts like Theresa's and the Checkerboard Lounge. Branch was "adopted" by Jimmy Walker, Homesick James and almost every older bluesman on the circuit. After learning from the masters, he developed his own signature sound—powerful, melodic, funky, jazzy and contemporary.
Branch's big break came in 1975 on the night he entered a harmonica battle royale against veteran Chicago harp man Little Mac Simmons at Chicago's Green Bunny Club. Among the blues dignitaries in the audience that evening was Alligator Records founder Bruce Iglauer, who witnessed Branch besting Simmons at his own game. From that night on, Branch began regularly sitting in at blues clubs all over the city. He recorded his first track for an anthology on Barrelhouse Records in 1975. Willie Dixon then invited Branch to join his Chicago Blues All-Stars, where he was groomed to take the place of his friend and mentor, harmonica ace Carey Bell. Branch stayed with Dixon for six years, soaking up the lessons offered up by Dixon and the other band members—both musical and professional.
With Branch's blues education well underway, his reputation as one of Chicago's best harmonica players grew swiftly. In 1977 (while he was still playing with Willie Dixon), Branch was recruited by the Berlin Jazz Festival to choose and lead a band of "next generation" blues musicians. He gathered some of the top young talent in Chicago, including Lurrie Bell (Carey's son) and Freddie Dixon (Willie's son). They performed to a wildly appreciative German audience. This core group, along with drummer Jeff Ruffin, became the original Sons Of Blues. In 1978, they made their recording debut, cutting three songs for Alligator Records' Grammy-nominated
Living Chicago Blues
series.
In 1990 Branch, along with his mentors Junior Wells, James Cotton and Carey Bell, recorded the Blues Music Award-winning album,
Harp Attack!
for Alligator. "That," Branch recalls, "was my diploma. My PhD." He's recorded several studio and live albums with The Sons Of Blues—most recently 2014's
Blues Shock
(Blind Pig)—and has appeared on countless other releases as a session player with blues stars including Koko Taylor, Lonnie Brooks, Lou Rawls, Son Seals, Willie Dixon and Johnny Winter.
In addition to his recordings, Branch is also a tireless educator. His Blues In The Schools program has earned him praise both inside and outside of the music world. Branch shares his knowledge of the music with students in Chicago and other cities around the world, where he teaches blues history as well as providing instrumental instruction to children. In 1996, members of his classes, with Branch at the helm, performed on the main stage at the Chicago Blues Festival, which was broadcast on NPR. He has appeared on NBC's
The Today Show
and CBS's
Sunday Morning
and can be seen in the feature films
Adventures In Babysitting
and
Next Of Kin
.
Billy Branch & The Sons Of Blues can be found performing in clubs, concert halls and festivals all over the world. From the United States and Canada to South and Central America, the Caribbean, China, Africa, Israel and all throughout Europe, Branch and his band soulfully deliver their music with a concentrated, raw Windy City authority. Now, with
Roots And Branches–The Songs Of Little Walter
, Billy Branch & The Sons Of Blues continue to spread the gospel of the blues, reigniting the magical, timeless power of the music of Little Walter Jacobs, and in turn the soul-cleansing power of the real, living, evolving Chicago blues, as only Billy Branch can play them.
SELECTED DISCOGRAPHY:
1978
Living Chicago Blues Volume III
(Alligator)
*
1982
Chicago's Young Blues Generation
(L&R, reissued by Evidence)
1984
Where's My Money?
(Red Beans, reissued by Evidence)
1990
Harp Attack!
with James Cotton, Junior Wells and Carey Bell (Alligator)
1992
Mississippi Flashback
(GBW)
1994
Live '82
(Evidence)
1995
The Blues Keep Following Me Around
(Verve)
1998
Sumlin & Branch
with Hubert Sumlin (Wolf)
1999
Satisfy Me
(House of Blues)
1999
Superharps
with James Cotton, Charlie Musselwhite and Sugar Ray Norcia (Telarc)
*
2000
Billy Branch & The Sons Of Blues Featuring Carlos Johnson
(Blue Sun)
2004
Don't Mess With The Bluesmen
with Carlos Johnson (P-Vine)
2004
Double Take
with Kenny Neal (Alligator)